35 SaaS Landing Page Building Tips from Experts (2022)
Read a curated list of the best landing page tips for SaaS products with examples from landing page experts, copywriters, and SaaS Founders to grow your SaaS.
We curated the best high-converting SaaS landing page tips from experts. Let's go!
---
1. Know the structure
Hook - reel them in • Lead - create desire • Body copy - handle objections • Offer - what you sell • Bonuses - sweeten the deal • Guarantee - risk reversal
Play with the order.
---
2. Weave features with benefits.
3. Questions drive action
Ask your visitors a compelling question that pushes attention to your CTA.
4. Write a "how it works" section
5. Problem, agitate, solution.
6. Reduce friction with data
7. Showcase demand with your copy
8. Replace buzzwords
9. Be clever AND clear
10. Hook, then explain.
Grab attention with a benefit-rich statement. Then, explain how your product gets the visitor there with ease.
11. CTA button copywriting
Your CTA button shouldn't say "get started." It should tell users the exact step they are about to take to produce action and commitment.
12. Product GIFs are your best friend.
If you have a SaaS or DTC product, show. Don't tell.
Give us action shots.
13. Make the H1 count.
Your H1 is the first (and most prominent) element we see right away.
That first line of text is the difference between hooking them and losing them.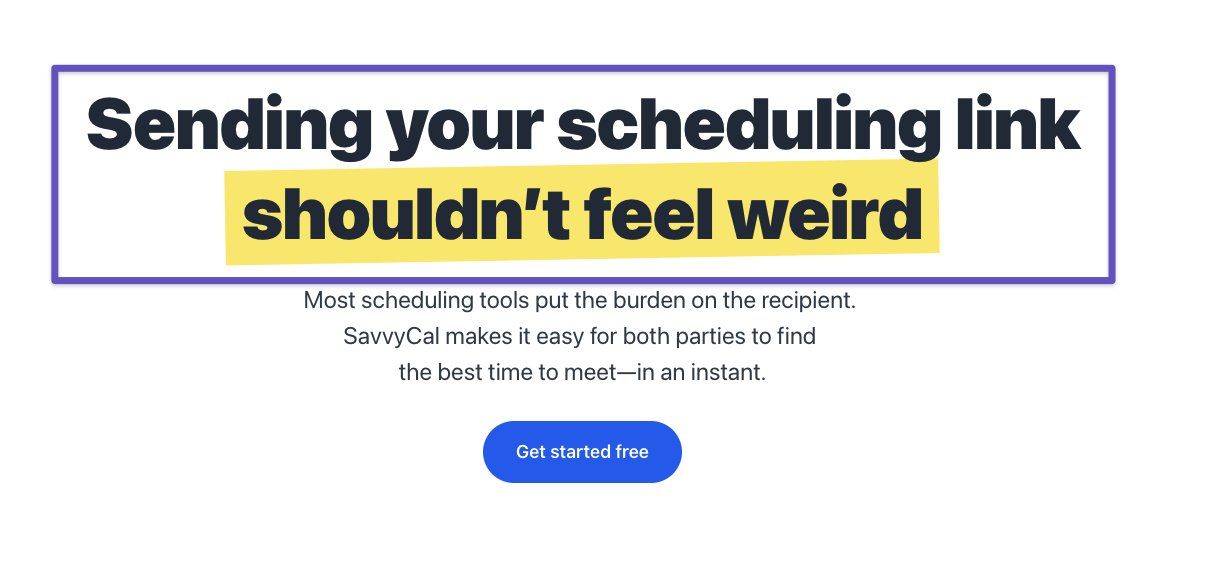 14. Be clear.
15. Inject social proof in your copy.
16. Only use imagery that moves the story along.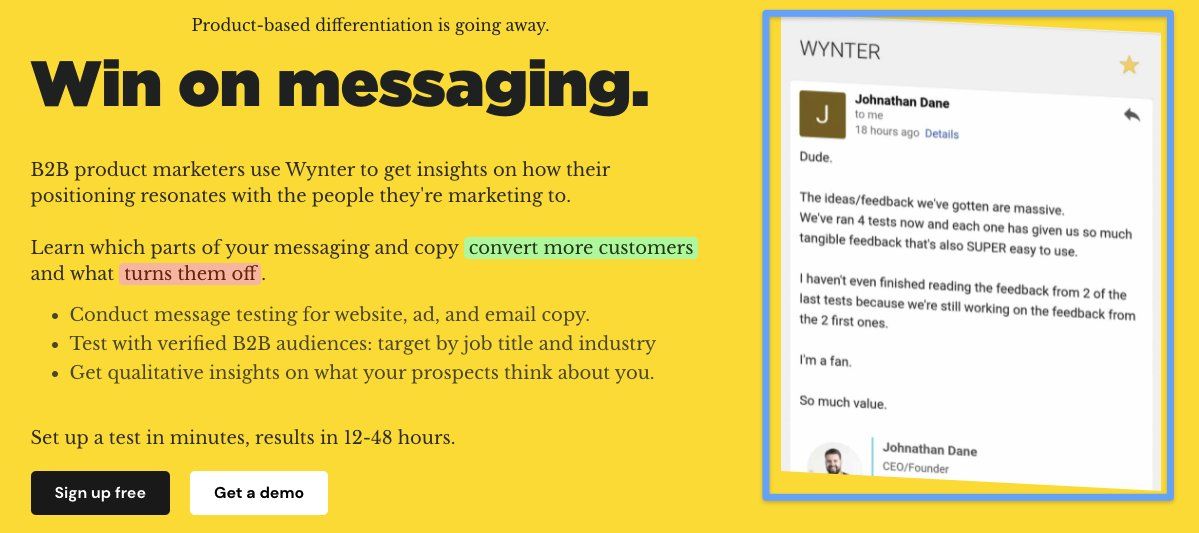 17. Increase site speed ASAP.
Speed can make or break a web experience.
Use Pagespeed Insights to find opportunities for your site.
18. Video social proof wins.
19. Make it about the user.
20. 1 CTA only (if possible.)
21. Make it interactive.
22. Keep the home page focused.
23. Keep the overall design simple.
24. No buzzwords, just value props.
25. Create an ideal above the fold (ATF.)
26. CTAs should do exactly what they say.
27. Make your pricing easily accessible.
28. Make Them Belong
Ask them to "join" or "become a member"
Building a community that you can show off through numbers and stats will get you more sales alone.
29. Make it Exclusive
People want to feel like they're getting in on something.
Something that others don't have access to.
Get them excited to join, signup, or buy because of the deals they're getting.
30. Prove Your Value
Show your audience how you compare to the competition.
People want to know that they're getting a good deal.
You should be answering this question for them:
31. Establish Authority
Show you know what you're talking about.
Whether it's through:
Numbers and other statistics always work well here.
32. A Unique Selling Point
Why should they buy from you?
Sure, you have the stats and experience to back it up, but what's unique?
Your product/service needs to be unique.
Two good examples:
Volkswagen: "German Engineering"
Maserati: "Luxury and style in exclusive cars"
33. Add Scarcity/Urgency
Nothing sells like a deadline.
Urgency:

having only a certain amount of time the deal is available "This limited time offer is only available through Monday!"
Scarcity:

having only a certain amount of spots/products available "There's only 2 spots left"
34. A Money Back Guarantee
By doing this you're eliminating all risk for the customer. Now they have no reason not to buy. If it doesn't work they don't pay!
It's always worth it to offer.
"If you don't get results in 30 days we'll give you your money back. No questions asked."
35. Delight with micro-interactions.
Those subtle animations can make the experience of browsing a site more pleasant. It can put the user in a better mood and make them feel happier than before.