How to grow your SaaS with Twitter (2022)
We discuss how you can apply Twitter for your SaaS growth, its benefits, and how useful and practical running a Twitter account is for SaaS founders.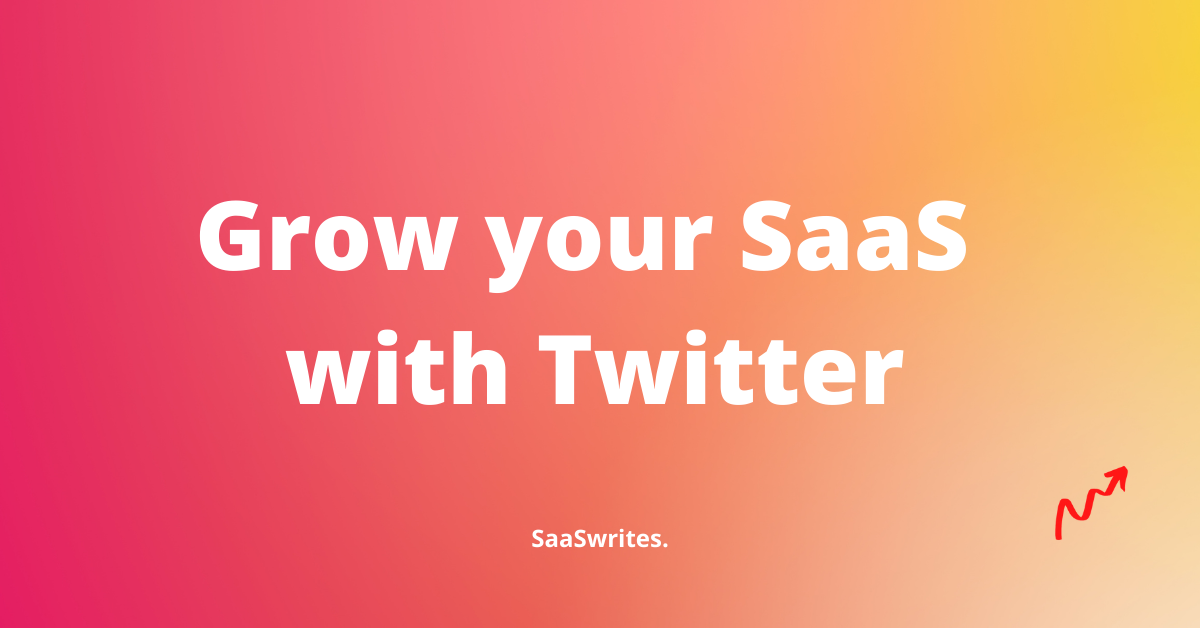 Note: SaaSwrites is a curated growth marketing hub and resource built to help SaaS founders grow their products. We sincerely thank all our experts for their constant value addition to this world.
Updated on: 14/04/2022
---
1. Turn your Twitter profile into a SaaS landing page
3 key areas to focus on:
Bio: give people a reason to follow you
Pinned tweet: get them hooked once they find you
Profile + cover photo: show who you are and what you're about
Your BIO should make people excited to follow you.
It should instantly answer:
what kind of content you'll share
where people can go to get more
Lead with benefits and grab attention.
Your PINNED TWEET should send people down the rabbit-hole.
You want them to read it and get sucked into your account for hours. Best way to do this is to create a "master thread" list so your reader can jam out.
Your PROFILE PHOTO can go a couple different ways.
You can show your real face. You can use an anonymous niche-specific photo. Real = better for sales and building relationships. Anonymous = better for targeted niche topics. Both can work well.
Your COVER PHOTO can go a couple different ways too.
You can show people who you are as a person. You can tell people what you do and what to do next. If your goal is to build your audience and connect with folks, use the 1st. If your goal is to sell product, use the 2nd.
2. Pick 3 main content pillars
These are the 3 main topics you'll be tweeting about. For me this is:
It can change over time but will guide you as you start out.
3. Create a "Thought Museum"
Sean learned this in
@OneJKMolina
course. It's a swipe file of tweets that catch your attention. And also emails, subject lines, headlines, blog articles, ads. Anything that makes you stop scrolling. I use Notion for my Thought Museum.
Having a Thought Museum will expose you to good content daily. If it catches your eye, there's something about it that's working. Keep it in a swipe file. Refer back to it whenever you're struggling to write. Don't copy! Use it as inspiration.
4. Start tweeting
By now you should have your:
Now it's time to start tweeting. 2-4 per day is good to start. If you have less than 1k followers it's better to comment on bigger accounts first. To comment and engage with bigger accounts. Make sure you're adding NEW value to the convo.
Meaning don't just say "couldn't agree more". Or regurgitate what they already said. Share a new perspective. Expand on their point. Be useful. Do this 10-15x day at the start.
Another way is to grow is to connect in the DMs. Reach out to bigger accounts and find a way to add value.
Maybe you're a web designer and their website sucks? Share some ideas to improve it. I got on Zoom to help people in the 10k+ range which led to more followers.
5. Identify a problem
When you first start tweeting it'll feel like you're talking to a wall. You're finding your voice. Seeing what topics resonate. What you like writing about. You'll figure it out over time. And when you do?
It's time to start zooming in. Isolate a painful problem your audience has and tweet about that. Create content to point out the problem. Make them aware of it. My audience is creators and early stage entrepreneurs.
Their problem? Making money from creating.
6. Create an offer that solves a specific problem
This could be in the form of:
Product type doesn't matter as much as the problem you're solving.
7. Sell your offer
By this point you should have:
a clear idea of the problem you solve
an offer that helps your audience solve that problem
Now you need to sell it. If you did the previous steps. This part is simple.
How do you sell your product?
First, create a quick n dirty landing page on Gumroad. Run it as a pre-sale and set a deadline for early-bird pricing. Tell customers that product releases on X date in the future. DON'T CREATE ANYTHING YET.
Next, create a promo campaign to run on Twitter.
Write content around:
results from you and customers
what life will be like once they use it
behind-the-scenes of building and using it
This will give you content for days.
Run the promo and gauge sales.
DM people you started a convo with and let them know about your offer. Don't be slimy about it. No sales? No problem. This is why you don't build before you sell. Go back to the drawing board to tweak your offer or come up with a new one.
Repeat this process until you've found a winner.
The bigger your audience and the more experience you have doing this.The better your chances will be. Keep at it till you find that winner.
8. Be consistent
You've heard this a million times but it's true. Consistency wins on Twitter. Writing. Engaging. Connecting. Making offers. Every single day. You only fail if you quit. Keep it rolling until you win big.