Ricky
Ricky is the founder of SaaSwrites. A SaaS founder himself, Ricky found it difficult to grow and market his product after building it. While networking on Twitter with founders, he realized there was a big gap in a platform that can truly help SaaS founders and makers with Marketing. He started SaaSwrites to bring the best marketing and growth resources. Ricky is an expert in SaaS Marketing offering SaaS channel strategy consulting services to SaaS companies. He also writes about SaaS marketing tools that help people with marketing. Ricky is also the founder of a B2B SaaS product - Beejek (a digital receipt platform for retail stores) Say Hi to Ricky @rickywrites on Twitter.
We curated expert link-building tips for SaaS to rank in SEO. Let's GO!
---
1. New Sites Need Foundations
Whenever you build a new site, you can't immediately be hitting it with guest posts to try and rank. Google has a built-in sandbox period where they validate your site (to stop spammers/hackers from ranking) You need to first build a foundational layer of links to authenticate your site.
Social profiles, citations (directories), and about pages are all great ways to build the base layer of links for your site.
2. Buy Links
Yes, it's against Google's guidelines but so is ANY form of link building. ∼70% of sites you outreach to will ask you for money, do you really want to only have access to 30% of the available links?
And your outreach campaign open rates will go through the roof if you offer them money in the subject lines. Just make sure you aren't being too generous upfront, there is always room for negotiations in these campaigns.
3. Build A Database
If you run a niche agency or run niche affiliate sites then building a link database will be a game-changer.
Outreach to sites, negotiate a price, build the link, and add the site to the database - Repeat for future campaigns.
4. Always Analyze Your Competitors
Don't go shooting blind. Make sure you heavily research the links your competitor's pages and sites have, then base your own link-building needs on what is already ranking and working.
Ahrefs and SEMRush are by far the best tools.
5. NoFollow Links Can Still Pass Juice
Since Google made NoFollow a hint directive in 2019, NF links have become increasingly more important with every core update Google has rolled out.
Generally speaking, the higher authority the link, the more likely it'll pass juice.
6. Use Niche Edits (Link Inserts) When You Can
Guest posts are normally on fresh pages and can cost a fortune in content fees. Look at the site's best pages (by links) and see if any pages with a high number of referring domains are relevant for your campaign.
These pages have age, links, are relevant, and are already live so the actual process of building the link is much shorter. You can also likely negotiate with site owners to get some very powerful pages for very cheap prices.
7. Supporting Content Instead of Exact Anchors
Instead of link building directly to your money pages with exact match or partial match anchor texts and potentially risking your site. Build supporting content that has exact match internal links, then link building at them.
8. Vet Sites
Make sure the sites you're building links on are up to scratch! Make sure they aren't linked farms, PBNs, or any other site set up just to sell links and eventually get penalized. Traffic, link profiles, domain age, social profiles, blog content, indexed pages, etc.
9. Quality Over Quantity
You're normally almost always better off going for the high authority, high-quality link than you are building dozens of lower authority links instead. Don't be scared to pay $300 for one link rather than $500 for 5 links.
10. Quality Tiered Link Building
Whilst tiered link building used to mean spamming your guest posts with automated link building software, nowadays it's much more about building multiple layers of quality and relevance. I use quality niche edits & PBNs tier 2.
The beauty of using PBNs and niche edits on the 2nd tier is that you don't need to go any further than that. PBNs and niche edits already have links going to them and thus already have tier 3, 4 (and so on) covered.
11. Network & Link Swap
The more SEOs you know, the more likely someone has a way to get a link on the site you need. Get yourself out there, join groups, and communities, message people - Trade links (and make friends).
12. Setup Competitor New Link Alerts
Ahrefs, SEMRush, and Moz allow you to set up alerts for newly found backlinks. Set them up for all of your competitors and review them once per week for potential opportunities.
13. Turn Brand Mentions Into Links
Use search operators and tools like BrandMentions to find where bloggers have talked about you or your client's brand but didn't link - Then go get that link!
14. Use Reverse Image Link Building
If your site has a lot of image content, then reverse image search your most visited image pieces and find sites that are using your images. Outreach to the sites and ask them to link back to the page your image was originally from.
15. Build Link Bait Content
16. Power of internal linking
Find the relevant older blog posts, edit them and create the internal link to the new post And, see the power of internal linking.
---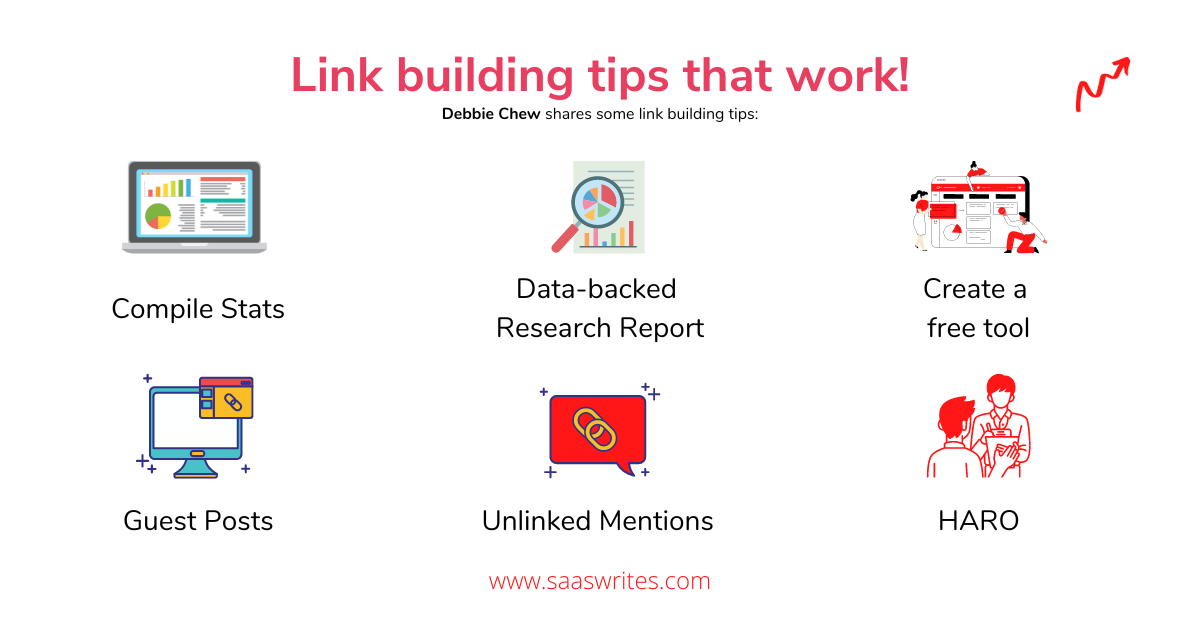 17. Stats compilation
This is a type of content where you scour the internet to compile stats for a category or niche that you're in. Examples:
Customer Service Stats by @helpscout
Remote Work Stats by @niradotcom
It's genuinely helpful (and interesting) content, especially to writers and even journalists, aka people who link to other people's content. There's typically some search volume and the keyword difficulty is relatively low.
You can increase your visibility in this niche AND provide value. It's content that can be easily whipped up. If you have the resources, making the stats easy to copy and paste or share on social media helps you get the most out of it. If you rank well, people might want their stat to be included.
You can include it and ask that they share the post with their audience. Lots of upsides.
The downside is that these keywords will become more and more competitive. (But at least you have a head start now!)
18. Data-backed research report
This is when you create a report that uncovers interesting data and findings to appeal to a large audience (or narrow in on a very specific audience)
Data sources may include:
survey data with a large sample size (thousands, not hundreds)
a combo of existing data sets (that makes sense)
It's usually one of the above, but can possibly be two if you can make the story work.
And that's the other important aspect — the success of these reports often depends on the story you tell with the data.
Why does this work?
When done correctly, this is data that journalists like to report on. And why is that? This is data that people want to read. Journalists report on what people want to know.
Once you're top of mind for journalists, the visibility of your report will skyrocket once it hits the publications. Writers may see it and link to your findings too. Your target audience might read it and see you as a thought leader. Huge upside but hard to do well.
19. Create a free tool
Calculators are a great example of this:
• mortgage calculators
• salary calculators
These are indispensable tools that your target audience can use. The best ones address a pain point or make something drastically easier to do. Or in the above example, it's a great way to ease potential users into the product.
They can be huge link magnets, especially when you are able to find interesting numbers and edge cases that can then be pitched to journalists. And once you have their interest, they essentially have to link to you if they write about your tool. Lots of upsides and hard to execute. Plus, you'll also need dev and design resources for this one.
20. Guest posting
Most guides out there will tell you to search for:
"[topic] + write for us"
"[topic] + guest post"
Or some variation of that. There's nothing wrong with this approach. But it's possible to get guest posts on sites that don't publicly advertise it.
Now, this is NOT permission for you to spam every blog out there, but you can guest post where everyone else is guest posting, or, focus your efforts on sites that might actually drive relevant traffic to your site.
Which would you choose? Why not both?
Think less about how you can benefit, and more about how can you use your team's expertise to write something valuable for their blog. If they already wrote about the topic you pitch, your email is going straight to the bin. It only takes two seconds to double-check.
21. Unlinked mentions
It goes something like this:
Set up an alert
Filter out results from your own domain
Get a weekly email, identify opportunities that are worth the effort
Send an email
Beyond the basics, you should also..
Offer to share the updated post with your audience (assuming it's relevant to them). This makes it a win-win.
Ask for a link to your most relevant page
Depending on what's the topic of the page that your unlinked mention is on, keep in mind that you may be able to suggest a backlink to a page that isn't your homepage. E.g. your product page might be more relevant.
Remember: the fresher the content is, the more likely you can turn mentions into links.
22. HARO
This stands for "Help a Reporter Out". Journalists and writers are often on the lookout for quotes from experts to include in the content they write. Links aren't guaranteed though. When using it for the 1st time, I was overwhelmed by the number of emails I'd get.
---
Quite a few things actually. But before I share my "lessons" with you, please be advised that what is about to follow is mostly based on my GUT FEELING and perception, rather than any scientific evidence. No A/B tests were done in the process.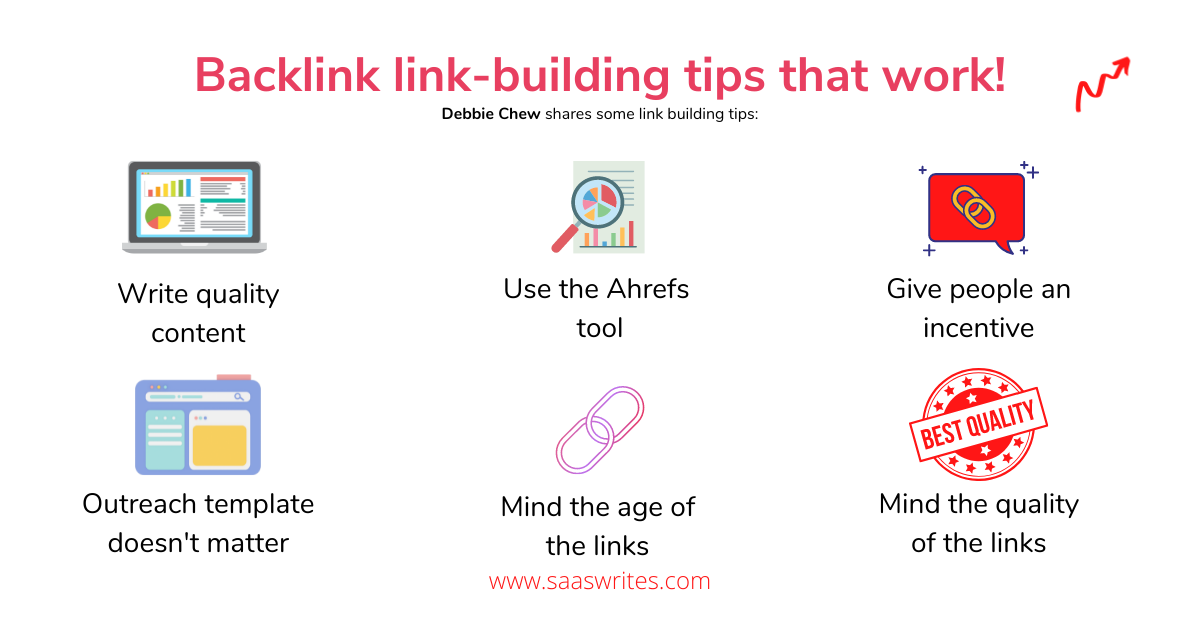 23. Content quality is no panacea.
The article that I was pitching is one of my best pieces of content EVER. It regularly picks up legit links organically and the TL;DR version that I shared on Reddit got 70+ upvotes and a silver award. I thought this would be easy!
But as I started reaching out to people and telling them how much I worked on this piece of content and how unique, useful and notable it is and why their own readers would appreciate a heads up about such a cool resource. Folks didn't seem to care that much.
A few people DID say that it was awesome. But I didn't feel that all the hard work that went into that piece of content was of major help in persuading people to link to it. I might as well have got similar results with a post that was half as good.
24. Ahrefs tool helped A LOT.
I got a strong impression that I was getting links because people already knew our brand and trusted that our content is awesome. And perhaps they wanted to do us a small favour. If I were a newbie blogger - I wouldn't have that.
25. People wanted an "incentive."
Many folks asked me what I could offer them in return for linking to my article. According to Google I can't really offer them anything at all. But if I didn't have a brand helping me to get links, that would be my only way.
And I actually think that it is a rather healthy dynamic. You don't reach out to people asking for 20 minutes of their time, just because you're "great" and "deserve their attention," right? If you want someone to help you, you have to help them in return.
What about "making their content better" and "helping their readers" via mentioning your awesome article in their content? Your link will make almost exactly NO DIFFERENCE at all. Their article is already published. Which means they're happy with it as it is.
"But what if Google finds out about my link exchange?" According to a research study which we've carried out a while ago, reciprocal links are quite common. 73.6% of websites in our sample size of 140k DID have reciprocal links! So an occasional link exchange is fine.
It's when all you do is trade links with shitty sites - THEN you will likely get in trouble. Building genuine connections with people in your industry and supporting each other's work is perfectly fine. That's how things work in real life, no?
26. Outreach template doesn't matter much
I know that many people obsess about using some magic words or psychological triggers that would make people link to them. There's no such thing. Ask 10 outreach "experts" to write an email and you'll get 10 different emails. I think that most prospects are in one of 3 "states" even before you reach out to them:
1 - open to review your pitch;
2 - want a "deal;"
3 - don't care.
And the MAIN reason why people would be in "state 1" is if they've heard about you before. Most are in state 2 or 3. There CAN be cases where your incredibly smart and timely outreach might melt some hearts and make people link to you, when normally they wouldn't care.
But if we're talking about sending hundreds of outreach emails - that kind of personalization isn't scalable.
27. Follow-ups work
A fair share of email replies that I got were from following up. I only used one short non-intrusive follow-up though. Did anyone if subsequent follow-ups make any difference?
28. Mind the AGE of your link prospects
How likely are you to edit an article that is 5 years old? How about editing an article that you published last week? This is how you look like asking to edit an old article:
And besides, Do you think it would look natural to Google if a few dozen websites that haven't updated their articles for years suddenly decided to add a link to the same page there?
All at the same time?......they use it as some form of a "spam signal OR In @ahrefs Site Explorer you can easily see the latest links to the pages of your competitors.
And it may vary how likely is someone to link to two similar resources side-by-side. But I can see two of my friends on that screenshot
29. Mind the QUALITY of your link prospects
While doing this link outreach I caught myself ruminating on the following "outreach principle:" "If you can't think of anything on a given website that would deserve a link, why bother about asking for a link FROM it?"You might disagree with me and go after every link you can get...
But if a website looks sketchy - there's a good chance that you're looking at someone's PBN and a link from it might lead to trouble, plus I simply felt bad asking for a link from content that I don't like.
Written by
Ricky
Ricky is the founder of SaaSwrites. A SaaS founder himself, Ricky found it difficult to grow and market his product after building it. While networking on Twitter with founders, he realized there was a big gap in a platform that can truly help SaaS founders and makers with Marketing. He started SaaSwrites to bring the best marketing and growth resources. Ricky is an expert in SaaS Marketing offering SaaS channel strategy consulting services to SaaS companies. He also writes about SaaS marketing tools that help people with marketing. Ricky is also the founder of a B2B SaaS product - Beejek (a digital receipt platform for retail stores) Say Hi to Ricky @rickywrites on Twitter.