Marketing is moving fast in 2023! So are the new tools that are being launched. Most of the time - as entrepreneurs and marketers, it is difficult to keep a tab on a more efficient marketing tool and software that you can apply to grow your business.
But don't worry! I've got you covered. Every month, I connect with 100s of marketing software developers and tech entrepreneurs on Twitter. This helps me understand new trends and keep up with the fast-moving digital pace.
And after scouting at more than 1127 marketing tools (yes, it's an actual list!), I curated the best marketing tools and software any business would need to grow. Let's GO!
---
---
---
Paid Ads
Pencil uses AI to help you generate and edit ad creatives. You can generate ad creatives for all social platforms in one place.
It also helps you create ad creatives that are already expected to perform among the top quartile in your sector. This is based on a dataset of over $1B in ad spend, so you know it's good.
---
Voluum is one of the best ad tracking tools to optimize all your campaigns! And no, we're not talking about just Google & Facebook Ads. ALL your ad campaigns.
This is a cloud-based ad tracker that integrates with multiple ad platforms and connects all the elements of your campaigns together.
You get to:
leverage insights and detailed data about your visitors & conversions
discover the most profitable combinations of traffic, ads, landing pages and offers
---
Hyros combines Print Tracking and AI Optimization to instantly scale your ads. You save 15% on Ad spend without decrease in sales with a 90-day guarantee!
Hyros' tracking results gives you the exact sales history, customer click history and journey to the sale. So you know the ads that are really working and you dont miss out on profits.
---
Adzooma is a simple UI to help you run multiple ad campaigns. You can easily set up, manage and optimize your online advertising campaigns on Google, Microsoft and Facebook.
---
Cold Outreach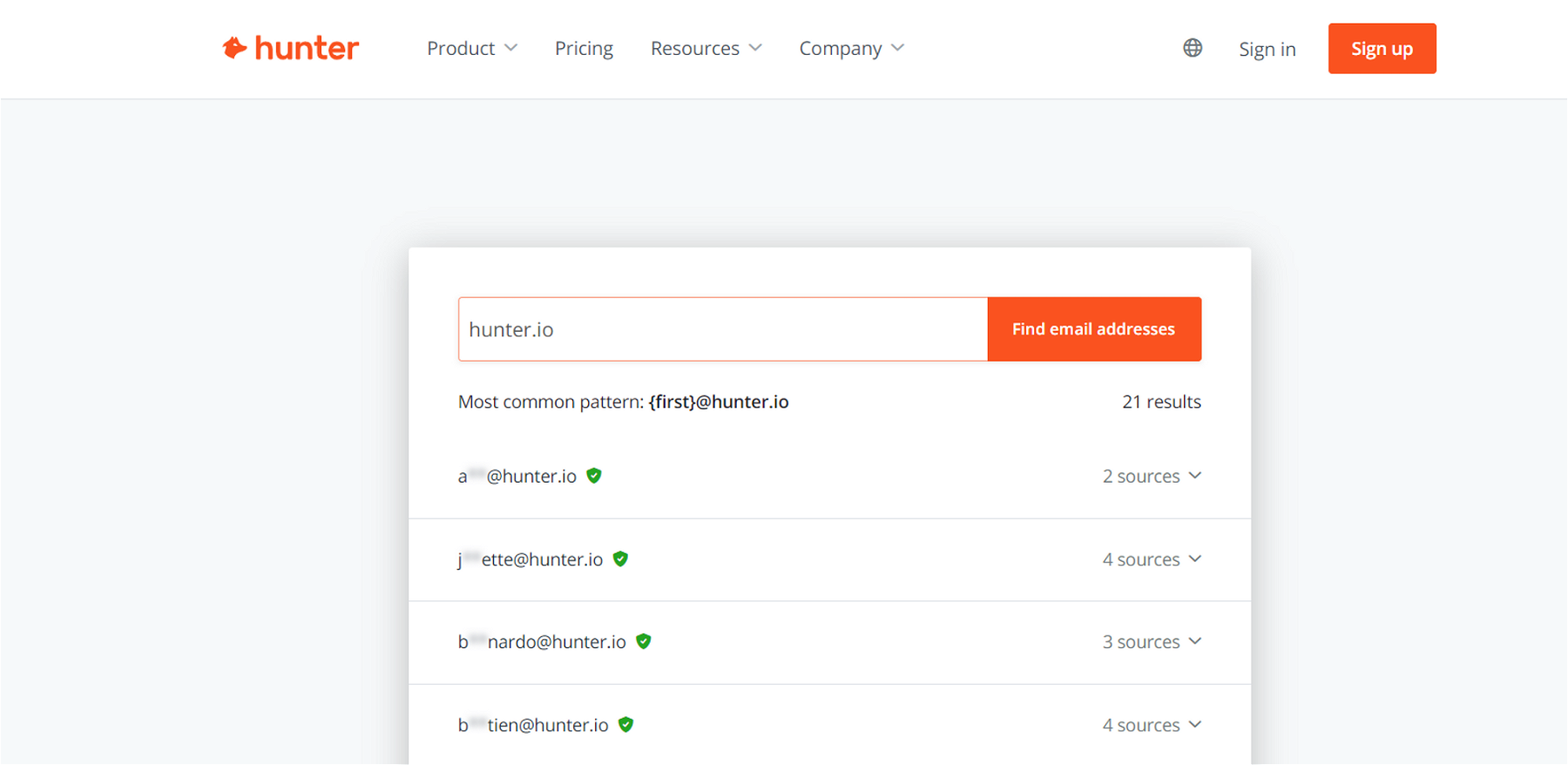 Hunter provides a list of the people working in a company with their name and email address. THey have a Database of 100+ million email addresses. All the emails have:
---
Woodpecker allows you to scale one-to-one conversations with prospects and customers in a personalized way.
It also keeps your sender reputation safe with real‑time email list verification, warm‑up & recovery, deliverability Monitor, and bounce Shield.
---
Surfe is a simple Chrome extension to add LinkedIn contacts, find qualified emails and synchronize LinkedIn & Sales Navigator conversations.
Surfe's method of simplifying sales and admin work means that you spend less time sifting through your CRM, and more time making sure that you are selling at your best.!
---
The best way to get the word out for your products? Reaching out to niche community members! There are >99% chances your best leads are sitting in your niche target communities.
And what better community than Facebook groups?
---
Content Marketing
If you use Notion, you HAVE To try Feather. It's easy to write your notes on Notion, but easier to just publish it as a blog post with Feather.
Feather is SEO optimized and you can choose to have your blog in a subfolder.
You don't need to code or design. Just write and publish!
---
---
Scale your content creation and distribution with an all-in-one platform. Create content 10x faster with AI Copywriter and get immediate SEO suggestions.
Truly a game changer to your content distribution!
---
Frase AI helps you research, write, and optimize high-quality SEO content in minutes instead of hours. Helps you write highly SEO optimized and researched-backed SEO content.
Frase saves you from hours of SERP research with automated outlines, blog introductions, product descriptions, FAQ's and more.
---
If you're a B2B or tech business, creating videos about your products is still an untapped opportunity. Imagine Instagram reels and TikTok getting viral on your use case. That's the power.
Offeo has access to over 3M+ stock images and videos. You just upload a picture and it generates an out-of-the-world video ready to be shared across your social channels and ads.
Offeo is also offering a lifetime deal which quite honestly is a steal!
---
With FlexClip, you can create a promo video for a campaign, sale, deal or product. You can also find ready-made video templates to get started quickly.
The stock videos & images. pre-built texts & effects, extensive music & sounds will be extremely handy and helpful to customize your videos.
FlexClip also offer AI tools like auto subtitle generator, text-to-speech tool, and image background remover for users to faciliate the video editing process.
With the 5000+ exquisitely-designed templates in diverse categories, even beginners can make stunning clips in minutes.
---
With RePurpose, you can create content once on your favorite social media platform and automatically distribute it to all others!
You can easily streamline your content publishing and maximize your reach across multiple platforms.
By repackaging your content in different formats - such as turning a video into a blog post or infographic - you can reach new audiences and expand your reach without starting from scratch!
---
With Content at Scale, you can produce high-quality, research-backed, original SEO blogs in minutes.
You no longer need to worry if a writer has experience in a given industry, no need to pass down knowledge of your existing content to new writers, and no more trying AI content tools that lack quality, take up time, and can be detected as AI content.
Take a keyword (or hundreds of them) that you want to rank for, and minutes later have a 2,600+ word blog post that's optimized and nearly publish-ready.
Our system researches the article in real-time, uses NLP and semantic analysis and SEO best practices to compile the entire article for you.
---
An AI video creation platform to create professional videos in 15 minutes. Enter text in over 120 languages and get a professionally recorded video in minutes.
With Syntheisa, you don't need cameras, microphones, or actors. You get access to 100+ stock presenters to make your videos more inclusive and diverse.
Turn your script into high-quality voiceovers in over 120 languages.
---
Google punishes AI written content. As a content marketer, if you're looking for fresh pieces of content, call the bluff of the content generated through AI with Originality.
Understand the true source of the content that you are receiving and future proof your website from Google AI content updates.
Plus you can now finally replace your legacy plagiarism checker with a modern tool built with your needs in mind.
---
Community Building
With Better Mode, you can make better relationships with your customers. It helps you streamline customer experience with an all-in-one community engagement platform.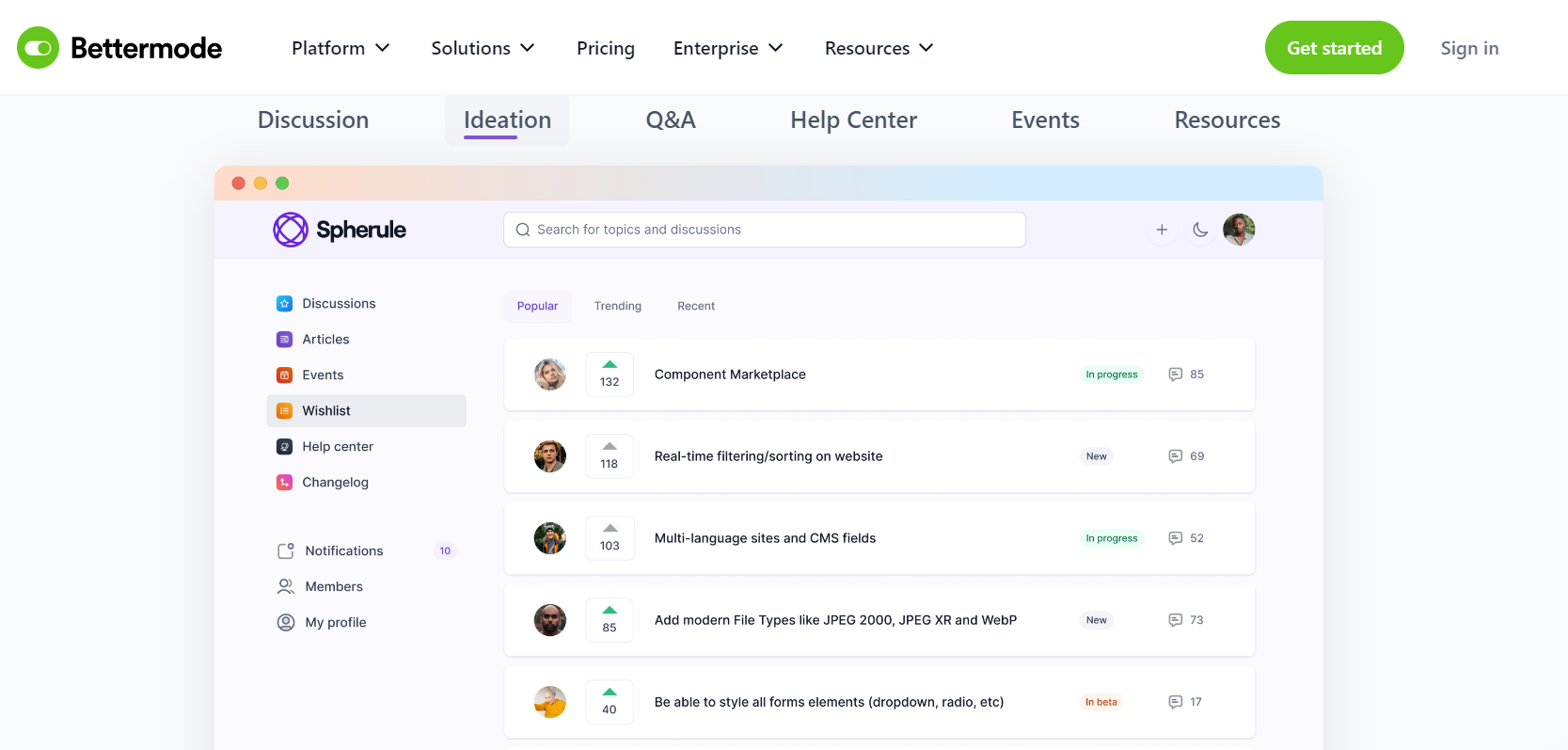 Effortlessly build your community with customizable templates, or create your own templates from scratch to suit your specific needs.
Multiple features to support everything to host a powerful customer community.
---
With MightyNetworks, you will bring your courses, memberships, and offers together in a powerful community under your own brand.
This will help you put your community at the center of online courses, memberships, and offers. It brings a magical member experience for your customers. (not possible with a chat app or Facebook group).
You can launch your Mighty Network with a free community, add a paid membership, or design your online courses with dedicated course communities, events, live streaming, and more from Day 1. On a Mighty Network, it's your choice of features, and everything's in one place.
---
Copywriting
Write blogs, social media posts, or engaging emails. Get better results in a fraction of the time.
It can help you with a CRO-optimized copy for all types of marketing content. You can write blogs, digital ad copy, eCommerce copy, sales copy, social media content, or website copy.
You can also use Copy AI's editor to rewrite paragraphs and polish up sentences. Then, just copy and paste the work into your CMS for publishing.
---
Headlime's artificial intelligence can take your thoughts and turn them into words, saving you tons of time so you can focus on what matters: your business!
When you have a million things to do, you don't have time to write high-quality content.
Headlime automatically generates the best copy for your business or clients and leaves room for your personal touch. Write all types of copy for blogs, social media, email, and website!
---
You don't need a developer to make a beautiful website. Get it for free in just a few minutes. Use your tablet or phone to create and update your website anywhere you are.
Making your site is like playing with building blocks. Add all types of content in just a few clicks, move it around or change it up anytime. Have fun with it.
You can also have a great design by choosing from 100+ easy-to-customize templates.
---
Create stunning landing pages for desktop and mobile without writing a single line of code. Add popups and sticky bars to any page on your website in just a few minutes.
Trigger customized offers and target the visitors who are most likely to convert.
"Unbounce has significantly improved our ability to generate leads through PPC campaigns. The Dynamic Text Replacement feature increased the relevancy of our pages, which led to a boost in our AdWords Quality Score"
Save time, automate tasks, and spend more of your time focused on your campaigns by integrating Unbounce with the rest of your tech stack.
---
Landingi's simple drag-and-drop page builder lets you quickly create, launch, and optimize unlimited campaigns – so you can turn more traffic into revenue.
Building a landing page doesn't need to be difficult. With Landingi, it's as easy as point, click, edit, and publish. Think Canva – but for landing pages!
Get powerful, user-friendly tools to quickly create and measure landing pages, pop-ups, lightboxes, and sales funnels.
---
SITE123 is the most intuitive and easy to use website builder on the market. We handle everything from website structures to design to make sure you focus only on your content.
SITE123's editor is much more efficient than traditional drag and drop website builders.
Create a free website with our content management system and establish your online presence. Share your website on social media and build a website today!
---
Take control of HTML, CSS, and JavaScript in a visual canvas. Webflow generates clean, semantic code that's ready to publish or hand to developers.
Webflow is used by more than 1,700,000 designers and teams to create, collaborate on, and scale beautiful websites in a completely visual canvas — no coding needed.
So everyone can focus on what they do best.
---
Email Marketing
BirdSend is affordable for content creators, has an intuitive and user-friendly interface, offers advanced automation and segmentation options, and comes with great customer support and helpful resources.
It's a game-changer at the price!
---
Create stunning emails without a developer or designer. The no-code email builder is intuitive and easy to use. Widgets work well and cover most use cases.
Integrates with multiple CRMs. Bring data from 1000+ tools. And send data back to your CRM & analytics tools. You can Segment audience to send highly targeted campaigns.
10,000+ marketers trust MailModo.
---
Best for D2C, eCommerce, and product companies with strong visuals, Moosend is the simplest and most modern solution to deliver email marketing and automation experiences that drive real revenue growth.
Deliver beautiful emails that get opened and clicked every time. Personalized content to every subscriber. Fully customizable templates. Build relationships that lead to conversions.
Forget repetitive tasks and drive even more sales on autopilot by automating your marketing messages. Build the journeys that trigger more customer actions.
---
Expand on your newsletters and boost sales with automated emails, segmentation, and the added potential of SMS.
Engage your shoppers wherever they are with integrated email and SMS campaigns.
All templates are built in and 100% customizable so you can give your customers the personalized, consistent experience they're after – all through a single platform.
---
An affordable, easy platform to send emails, grow your list, and automate communication.
Find new customers and build your email list with lead generation tools that turn anonymous connections into loyal fans.
Stay in touch with your customers and potential clients with targeted online communication that converts.
---
The all-in-one email marketing, marketing automation, and CRM tools you need to create incredible customer experiences.
Craft email newsletters, campaigns, and promotions that connect with your customers. Customize your communication to offer exactly what they are looking for.
Make it easy to run your marketing campaigns. Set up a welcome series with email automation, segment your contacts, or use simple automation workflows to save time and money.
A CRM with email and sales automation keeps all your customer data organized in one platform. Manage multiple pipelines, update deals, and always follow up at the perfect moment.
---
An intuitive and simple yet flexible email template creator. Speed up production. Test and export emails to any ESPs. Drag and drop & HTML editors.
Build and customize every element of your email message intuitively. No code email development. Helpful pre-built modules and content blocks to streamline the process.
Code emails from scratch or start in the Drag-n-Drop builder and then add custom HTML elements.
---
Aweber delivers powerfully-simple email marketing for small businesses that does 90% of the work for you, leaving 10% for you to have fun!
AI-powered design assistant that automatically builds you amazing-looking branded email templates in seconds. Create custom emails and landing pages in just minutes without ever writing a line of code.
Automate email sending and personalization with built in campaigns. Import high performing pre-built campaigns into your account to accelerate using automations in your marketing efforts.
---
Today, most email marketing services offer automation and landing pages, but MailerLite is truly distinguished.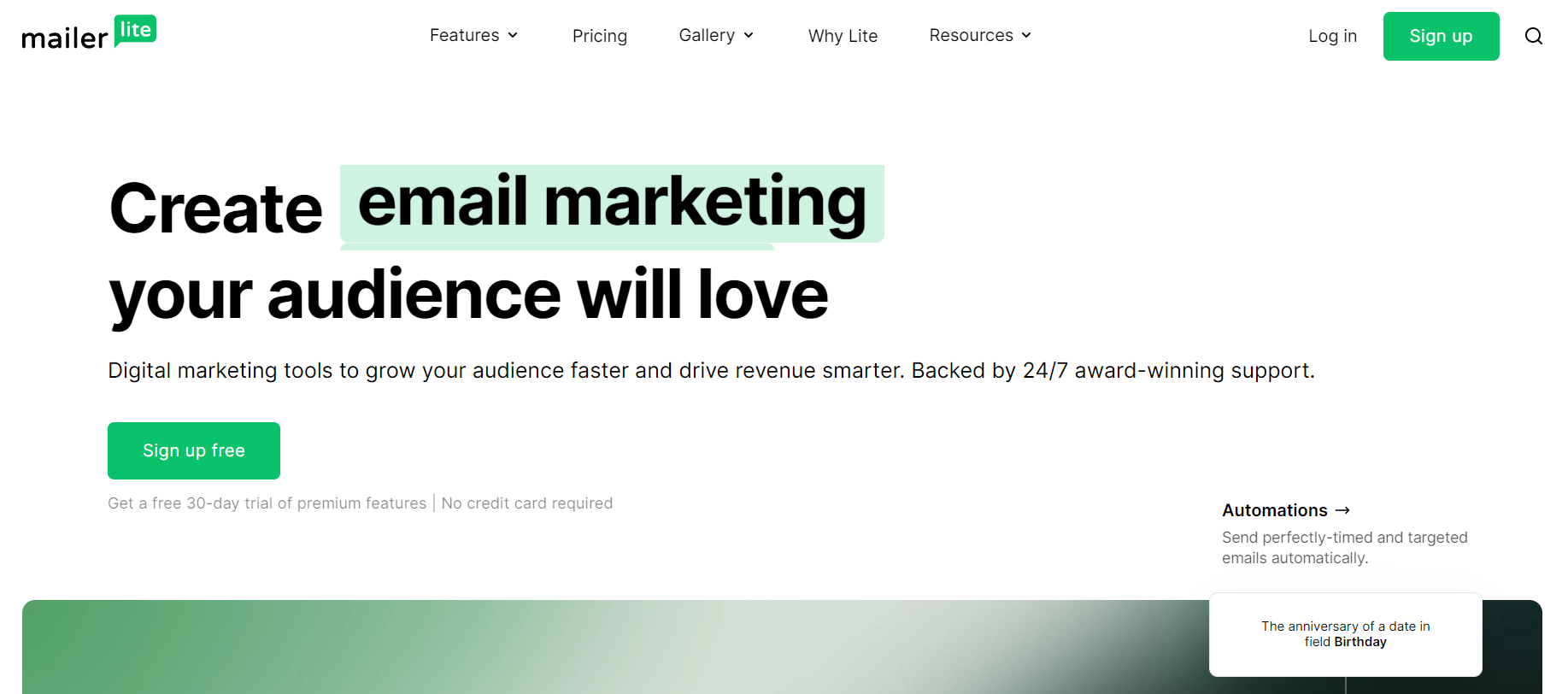 Create engaging dynamic emails, with an intuitive drag and drop editor. Monitor performance, sell digital products, and run your entire online business on automation.
It's simple, beautiful UI and has attentive customer service.
---
Import existing subscribers and keep growing with customisable forms for your website. Or create stunning landing pages to capture more subscribers.
Start with a pre-designed template and customise it with the easy-to-use email editor. Or build your own designs from scratch. Import HTML templates for full creative control.
Save time and reach new subscribers while they're most engaged with an automated welcome series. Simple drip campaigns onboard new customers and show them what you're all about.
---
Folderly is an all-in-one email deliverability platform to supercharge your email performance. Locate, solve and prevent email deliverability pitfalls.
Leading email deliverability software that combines AI-powered automation and human approach. Email deliverability related issues that prevent recipients from seeing your emails and drop your open and reply rates
---
Growth Marketing
Answer more support tickets with effortless all-in-one customer care software.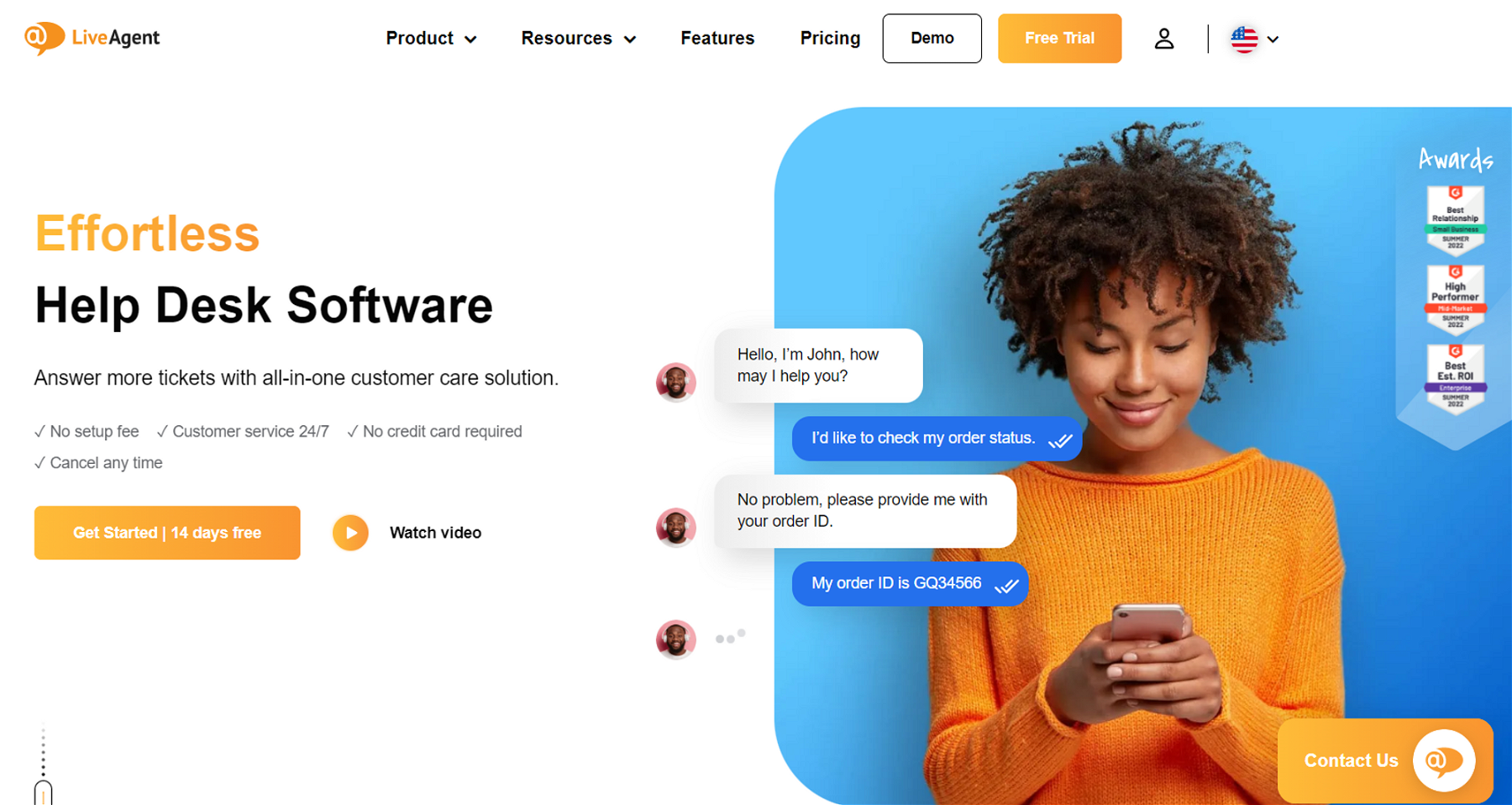 You can create multi-channel support requests and integrate all platforms where your customers can possibly be. The toolset has 130+ ticketing features and 200+ integrations.
Provide personalized customer service and increase your issue resolution by up to 56%. Get unlimited call recordings, IVR, or agent availability management and achieve excellent customer service with every call.
---
Bonjoro lets you send quick personal videos to new leads and customers, to stand out, build trust, and make more sales.
Bonjoro connects to your CRM or email marketing tools. Whenever a lead signs up, subscribes, or makes an inquiry, you can quickly engage them with a delightful personal video, sent directly to their email inbox.
---
With Little SaaS, you can use a one-point-of-contact platform for both your team and customers. Streamline communication by funneling everything into one place.
Prevent miscommunications and mistakes, foster trust with other team members, and provide clear directions with the help of solid communication.
---
Add live chat to your product, app, or website to build ongoing engagement with your customers and foster long-lasting relationships
Deliver help content to customers – and scale your support – with our integrated knowledge base.
Create visually stunning popup forms that are optimized for the highest conversion rates to generate leads, drive sales, survey visitors and more.
---
Build conversational surveys of any type, for any purpose, in any language. Get 40% more responses. Access the consolidated performance in one place & keep it convenient.
Be where your customers are. Drive impactful actions by design & kick-start Response Management. Serve customers proactively.
---
Go from busywork to less work with powerful forms that use conditional logic, accept payments, generate reports, and automate workflows.
---
Create forms for all purposes in seconds. Without knowing how to code, and for free!
Tally form builder works like a doc or a simple Notion page. It makes form building easy and offers tons of powerful features for free.
Use tons of free advanced features like collecting payments, conditional form logic, answer piping, calculations, hidden fields and many more. Share a form link, connect custom domains, and embed your form into your website or Notion page.
Analyze your form submissions with detailed reports. Export data and automate workflows through Zapier, Make, Google Sheets, Notion, Airtable, Slack, webhooks, and more.
---
Built-in photo and video libraries bring questions to life. Custom layouts and themes show your brand at its best. A sleek interface ties it all together.
---
Formwise is an online form builder that allows businesses to create custom forms quickly and easily, without any coding knowledge.
Choose from a variety of form templates or create your own custom form from scratch, with drag-and-drop functionality.
Customize your forms with your branding and colors, and add advanced features like conditional logic, file uploads, and integrations with other tools.
Embed your forms on your website or share them via email or social media, and track your form submissions with real-time analytics.
---
Maximize conversions with visual behavior insights, in-the-moment feedback, and user interviews—Hotjar has it all.
Hotjar gives you the power to connect the dots between what your users do and why — so you can create and optimize amazing experiences that drive business growth.
See exactly what your users see. Watch real user sessions to find and fix hidden friction and conversion blockers.
---
Increasing 30% growth through customer referrals. Customize and brand the look of your referral program. Easily integrates with Shopify, WooCommerce, Magento & many more.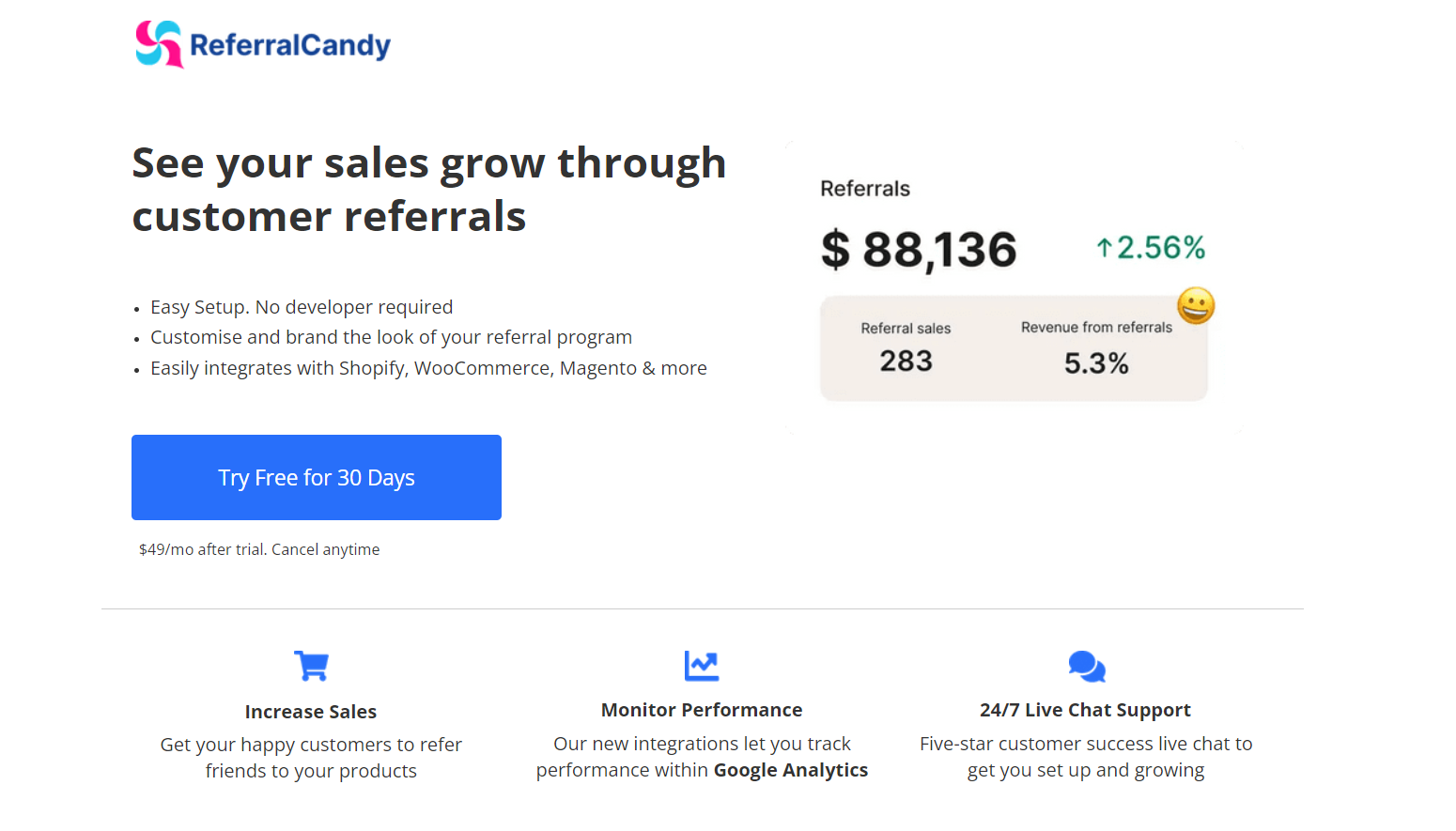 Get your happy customers to refer friends to your products. Integrations let you track performance within Google Analytics. Five-star customer success live chat to get you set up and growing.
See your referral traffic in your existing Google Analytics dashboard for more insights. Build an audience and serve ads to your new referral leads in Adroll, Google Ads, and Facebook Ads.
Easily add unique referral links for your advocates to share within your Mailchimp newsletters.
---
With WishPond, you can build a professional-looking landing page, plus a thank you page, collect and store email leads, look at views and conversions, and send emails to leads. All of this in one handy package.
Wishpond's intuitive landing page builder makes it easy to get more leads and sales from your website. The popup builder makes it easy to create popups, welcome mats, slide-in popups, and opt-in bars and add them to your website, e-commerce store, or blog.
Create contests & promotions that generate social engagement and get more followers, and easy-to-use marketing automation enables you to nurture leads and retain customers, automatically.
---
Deliver personalized experiences and boost your sales with a smart customer service platform.
Communicate with your customers using their channels, just like they would chat with friends.
Reach out to prospects on high-intent pages in real time. Provide them with tailored engagement based on customer data. Nurture your leads using automation and asynchronous communication. Provide support around the clock. Increase lead-to-customer conversion using smart chat tools that improve your responsiveness in crucial moments.
---
Marketing and customer service teams use Tars to optimize their conversion funnels, automate their customer service interactions, and redefine their customer experience.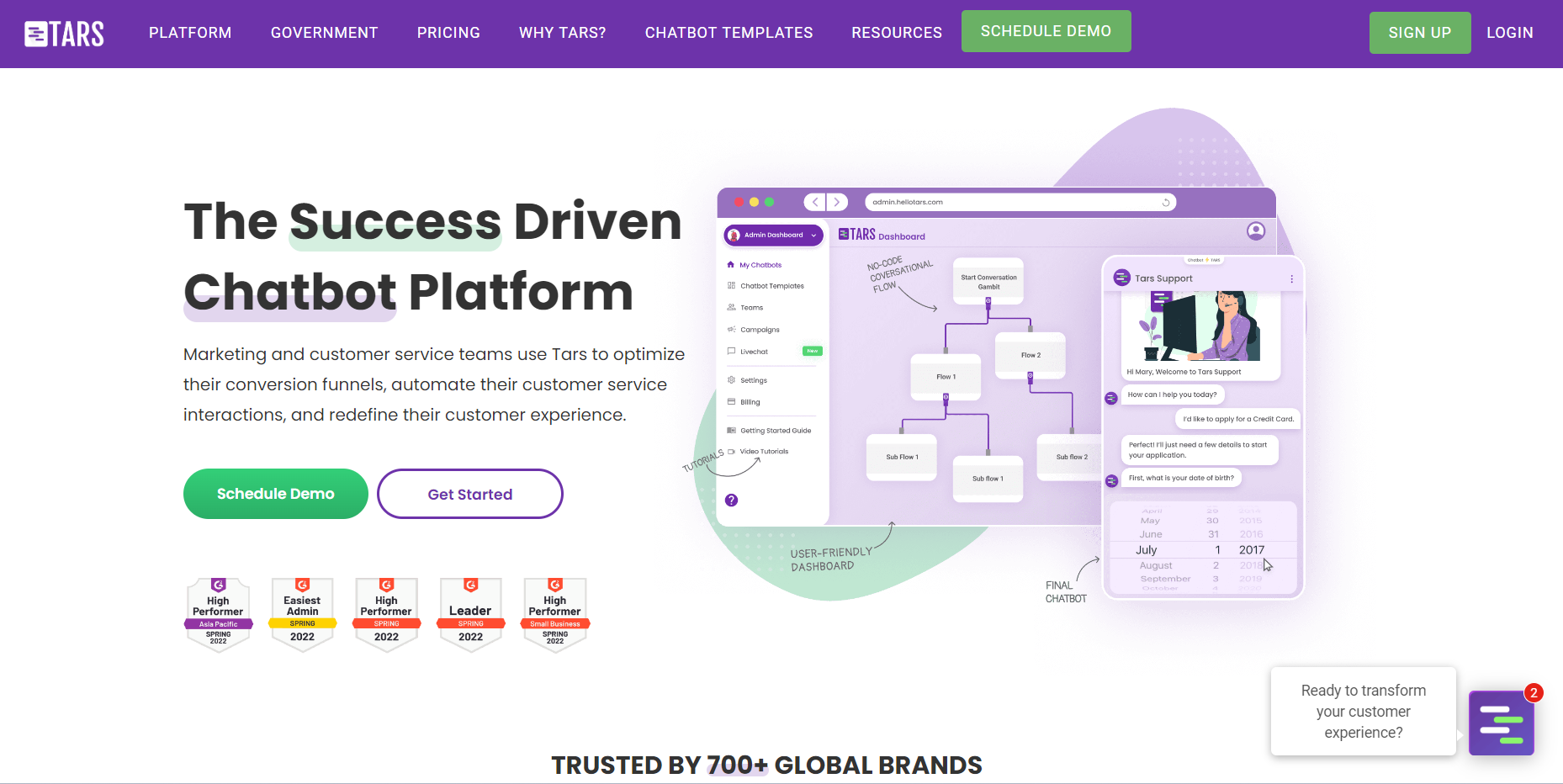 From capturing leads to answering repetitive questions, our chatbots work 24 x 7 to automate human-like conversations at an incredible scale.
Not all queries are created equal. Use Tars Live Chat to seamlessly hand over complex support requests to a human agent.
Using Tars Campaigns, re-engage your leads & customers with conversational campaigns that reach their WhatsApp & SMS inboxes.
---
Create landing pages, widgets and pop-ups for the entire customer journey per drag & drop with our no-code funnel builder by using customizable form, survey, calculator and quiz elements.
Create captivating quizzes, forms, and calculators that generate personalized results, tailored price quotes, customized product and service recommendations, built in scores, instant feedback and custom outcomes.
Connect natively to your email service provider and sync data to your preferred email list. Personalize the customer journey and close the deal right on the spot using our integrated payment forms.
Build easily embeddable onboarding flows and welcome surveys with personalized user paths.
---
Easily Connect Multiple Applications and Automate your Tasks! Connect your favorite applications within minutes and say goodbye to manual work
Imagine The Possibilities of Automating Anything! Pabbly Connect supports more than 1000+ applications for seamless real-time data transfer. For example: When new sales happen on WooCommerce, Add customer details to Google Sheets
Pabbly Connect Has All The Features You Need. Easy-to-use built-in tools that help you create workflows with advanced capabilities like scheduling, delay, router, and many more.
It's a SERIOUS ZAPIER ALTERNATIVE!
---
Sell all your digital products online. A pretty way to deliver your content, boost conversions, maximize customer value, and run your business without worrying about tech.
Sell eBooks, online courses, membership sites, coaching, consulting or any type of online business.
Pick a template. Customize it with ease. Then publish. You'll be ready to start accepting orders in minutes.
Instantly boost sales with 1-click upsells, order bumps, multi-option checkout, abandoned cart recovery and much more.
---
Design fully customizable website and landing page apps and convert site visitors into customers. No coding is required!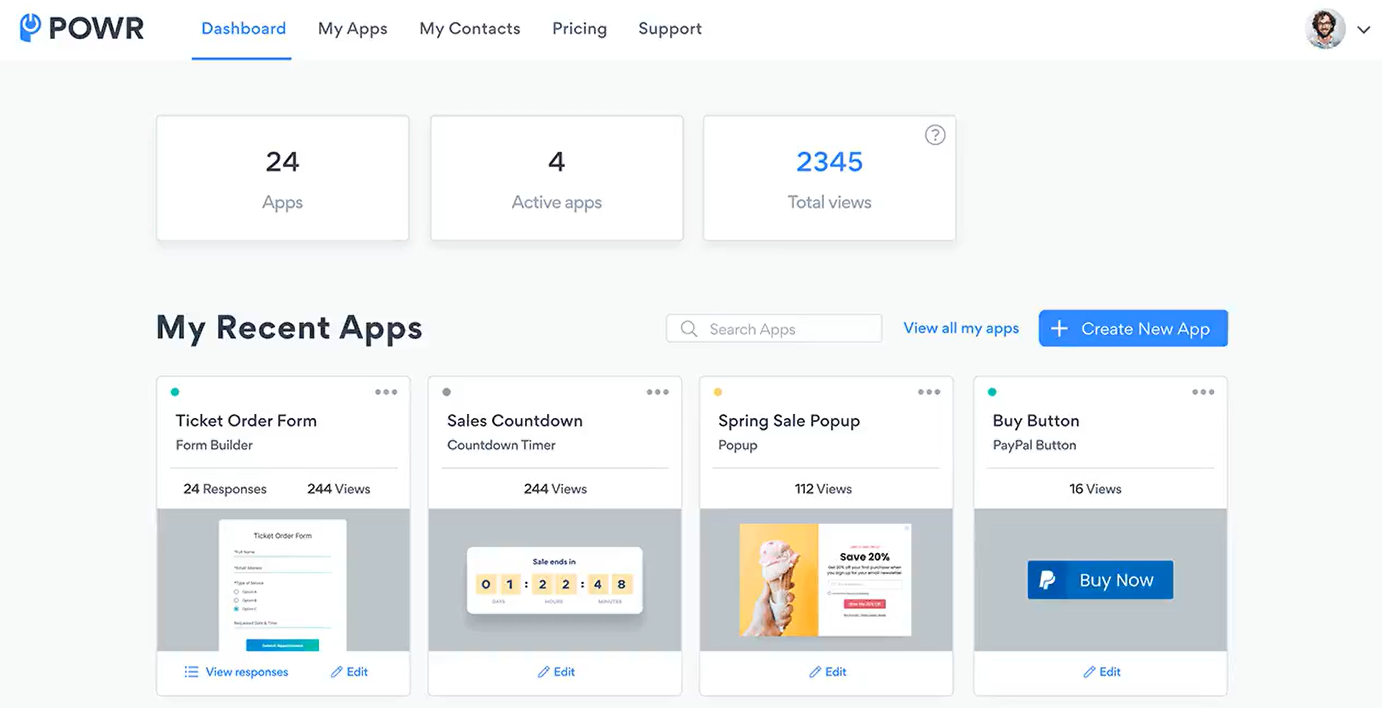 Regardless of your needs and goals, POWR has an app for it. Gather valuable information to drive more sales, and communicate with your current customers to build brand loyalty, referrals and overall customer satisfaction.
Collect leads, improve conversions, display information, and support all your customers.
Manage all your apps across all of your sites in one simple dashboard. Create new apps, keep track of your active ones, view all contacts and payments collected, and more.
---
ClickFunnels Gives You Everything You Need To Market, Sell, And Deliver Your Products Online All In One Convenient Spot!
Build a website, publish a blog, have a shopping cart for digital products, build a membership site, have a CRM, send email marketing campaigns, with powerful analytics.
It's POWERFUL and it's the best and the most powerful funnel builder in the market.
---
With tons of features and products at an affordable price, Groove is a perfect choice for price-conscious businesses looking to build powerful end-to-end funnels for their business.
Create Stunning Websites with the World's Easiest Page Builder, Create Stunning Websites with the World's Easiest Page Builder, Sell Online with Easy Upsells and OrderBumps, and an All-In-One Email Marketing App
Create Loyal Affiliates, High-Impact Memberships, Video Marketing, eCommerce, Easy Blogging and SEO, Conversion-Focused Webinars, Real-Time Social Proof, and Customer Support.
All together in one affordable platform.
---
DashThis gives all your marketing data in one automated Report to help marketers save hours of work and create their reports in the blink of an eye.
The software helps thousands of online marketing reports created by agencies and digital marketers daily. With a simple analytics dashboard tool, hours of manual digital marketing reporting dashboard creation is officially a thing of the past!
Gather all your data in one tool, speed up your reporting, share your work easily, and make your results shine!
---
An affordable all-in-one marketing platform to help manage your online business with ease.
Create sales funnels, send marketing emails, build websites, manage affiliates, create online courses and automate all of your marketing processes.
The building process is super smooth and the learning curve is ridiculously small. From building your website to building an online empire, Systeme makes it all possible.
---
Sales
With Hubspot CRM, you can manage your leads, deals, and customer interactions in one central platform, saving you time and increasing your productivity.
One of the best features of Hubspot CRM is its customizable sales pipeline, which allows you to create stages that match your sales process and track the progress of your deals.
The platform also offers automation features, detailed analytics and reporting, lead capture forms, email tracking, and task management tools to keep your team organized and on track.
Overall, Hubspot CRM is a powerful tool that can help you streamline your sales processes and grow your business.
Enjoy unlimited users, data, and up to 1,000,000 contacts — with no expiration date.
---
Saleshandy's cold email automation helps you send personalized cold emails at scale with high email deliverability.
Set up hyper-personalized follow-ups for days, weeks, and months in advance to close more deals and get a high reply rate.
Create up to 26 variants with different subject lines, email bodies and CTAs to know what works best for your targeted audience.
Automate your prospect uploading with Saleshandy and get your list verified for healthy sending.
---
All-in-one marketing and sales software to streamline your workflow by providing you with the essential tools for sales, marketing, and customer support all in one platform.
Use EngageBay's automation tools to save time on repetitive tasks, such as email campaigns, social media posts, and lead scoring, allowing you to focus on closing more deals.
EngageBay's powerful CRM system provides you with a 360-degree view of your customer interactions, allowing you to track deals, manage pipelines, and analyze data to make informed decisions about your business.
With EngageBay, you'll be able to create and track marketing campaigns, manage your sales pipeline, and provide top-notch customer support all in one place, helping you grow your business efficiently and effectively.
---
LeadJet allows you to find targeted leads on LinkedIn quickly and easily, saving you time and helping you generate more business.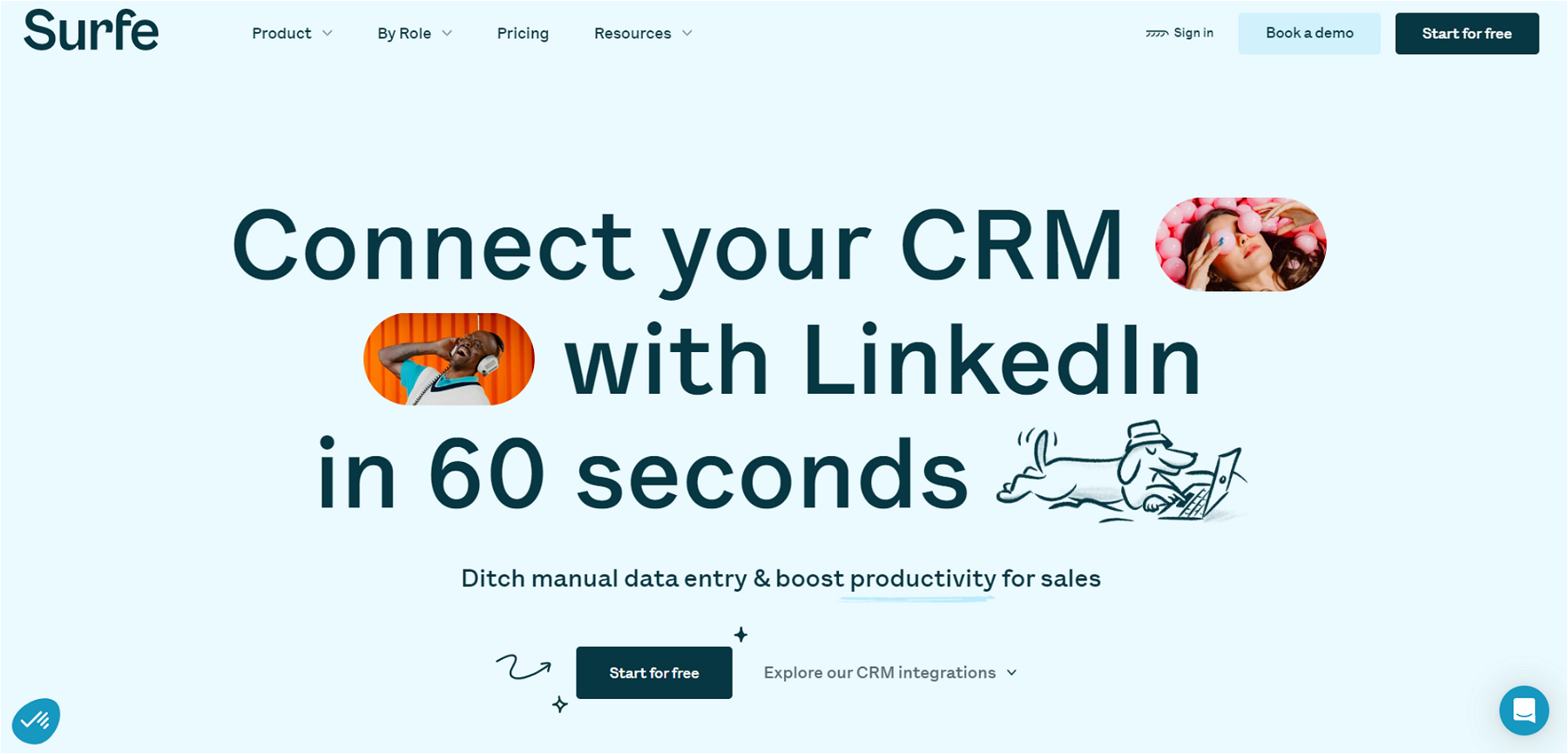 Search for leads using filters such as industry, job title, location, and company size, to find prospects that fit your ideal customer profile.
Export your leads to a CSV file, connect with them on LinkedIn, and even send them personalized messages and automated follow-ups, all within the platform.
Automatically visit LinkedIn profiles and endorse the skills of your leads, helping you build rapport and increase your visibility on the platform.
---
FreshSales CRM helps you streamline your sales processes and improve your team's productivity.
Track all of your leads, deals, and customers in one place with FreshSales CRM's intuitive and user-friendly interface.
Automate your sales processes, including lead nurturing, email campaigns, and deal updates, to save time and increase your conversion rates.
Get real-time insights into your team's performance with FreshSales CRM's robust reporting and analytics features, allowing you to make data-driven decisions that drive business growth.
---
Less Annoying CRM provides small businesses with an easy-to-use CRM solution that simplifies their daily workflow, saving them time and money.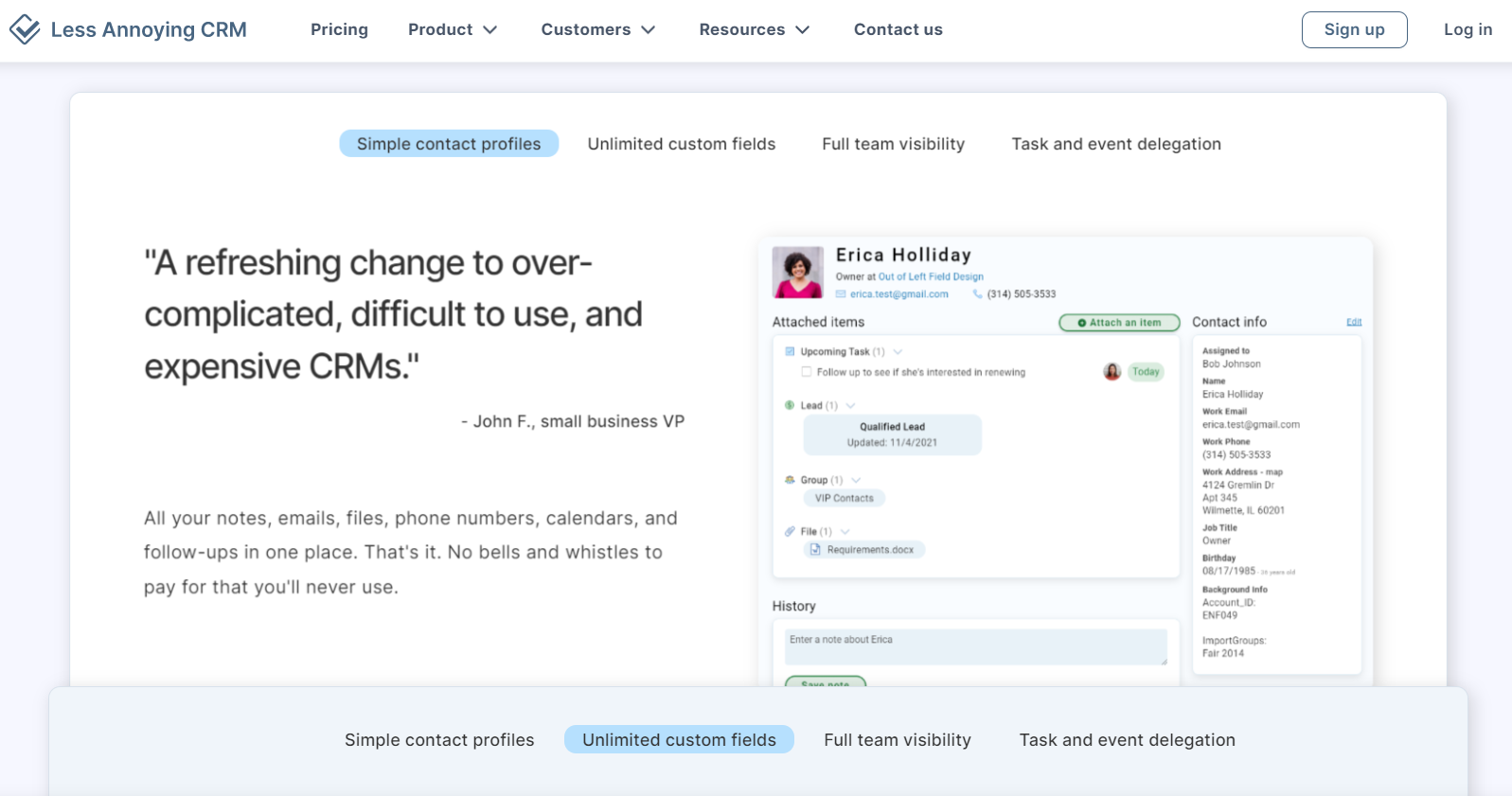 Track and manage your leads, contacts, and tasks all in one place, and easily customize your pipeline stages to match your unique business needs.
Get personalized support from a dedicated customer service team who will work with you to help you get the most out of the platform.
---
OnePage CRM's biggest benefit is its simplicity. It allows you to streamline your sales process and focus on what really matters - closing deals.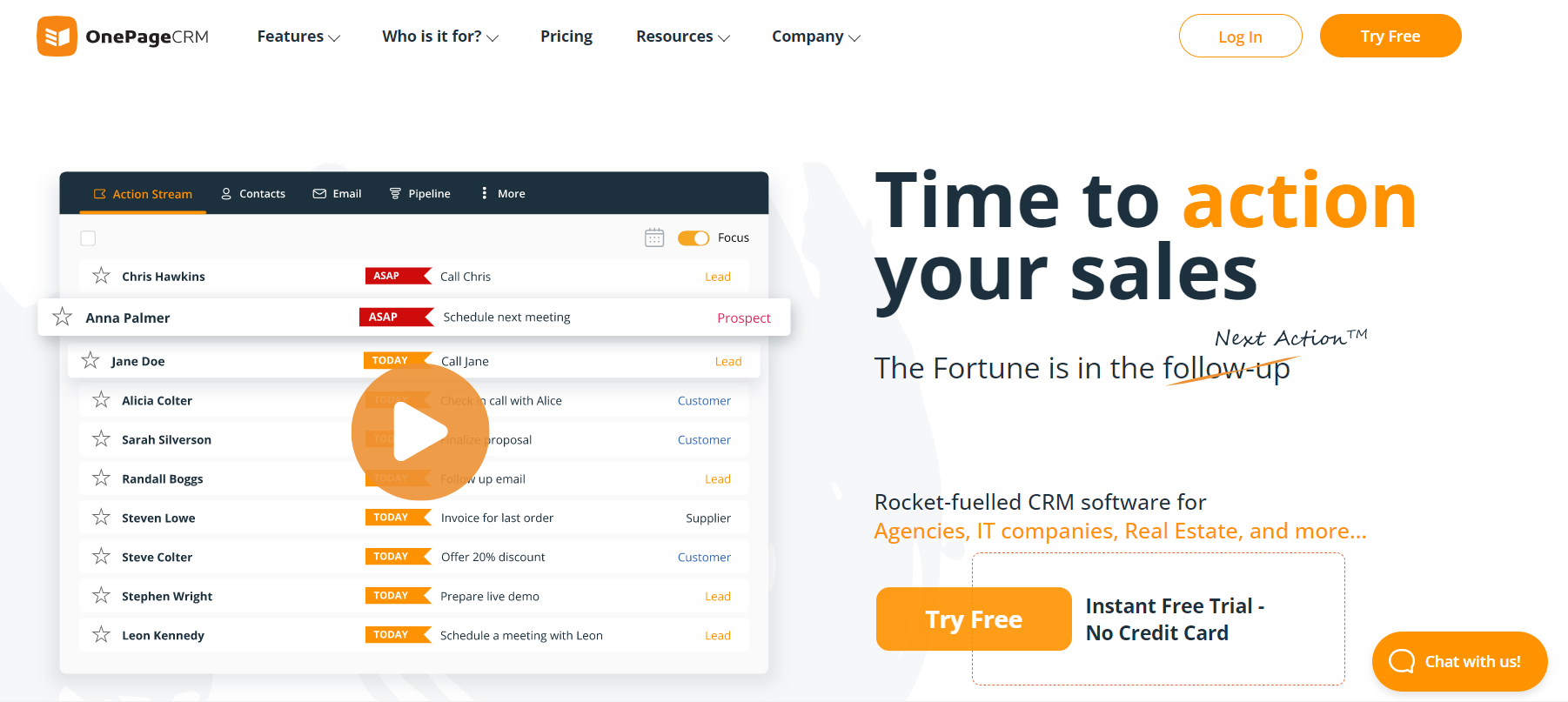 Easily manage your sales pipeline and see all your deals on one page, ensuring nothing slips through the cracks.
Create and send quotes, proposals and invoices directly from OnePage CRM, all while tracking your revenue and forecasting future sales.
Collaborate with your team members, assign tasks, and share notes on contacts and deals, all in real time.
---
TextMagic makes it easy to communicate with your customers and team members through text messaging, providing a fast and convenient way to stay in touch.
Easily send and receive SMS messages, even when you're on the go, and keep all your conversations organized in one place.
Automate your messaging with scheduled messages, bulk messaging, and auto-replies, helping you save time and increase your efficiency.
---
With Collect Chat, you can create chatbots for your website, enabling you to provide instant assistance to your visitors, generate leads, and improve customer satisfaction.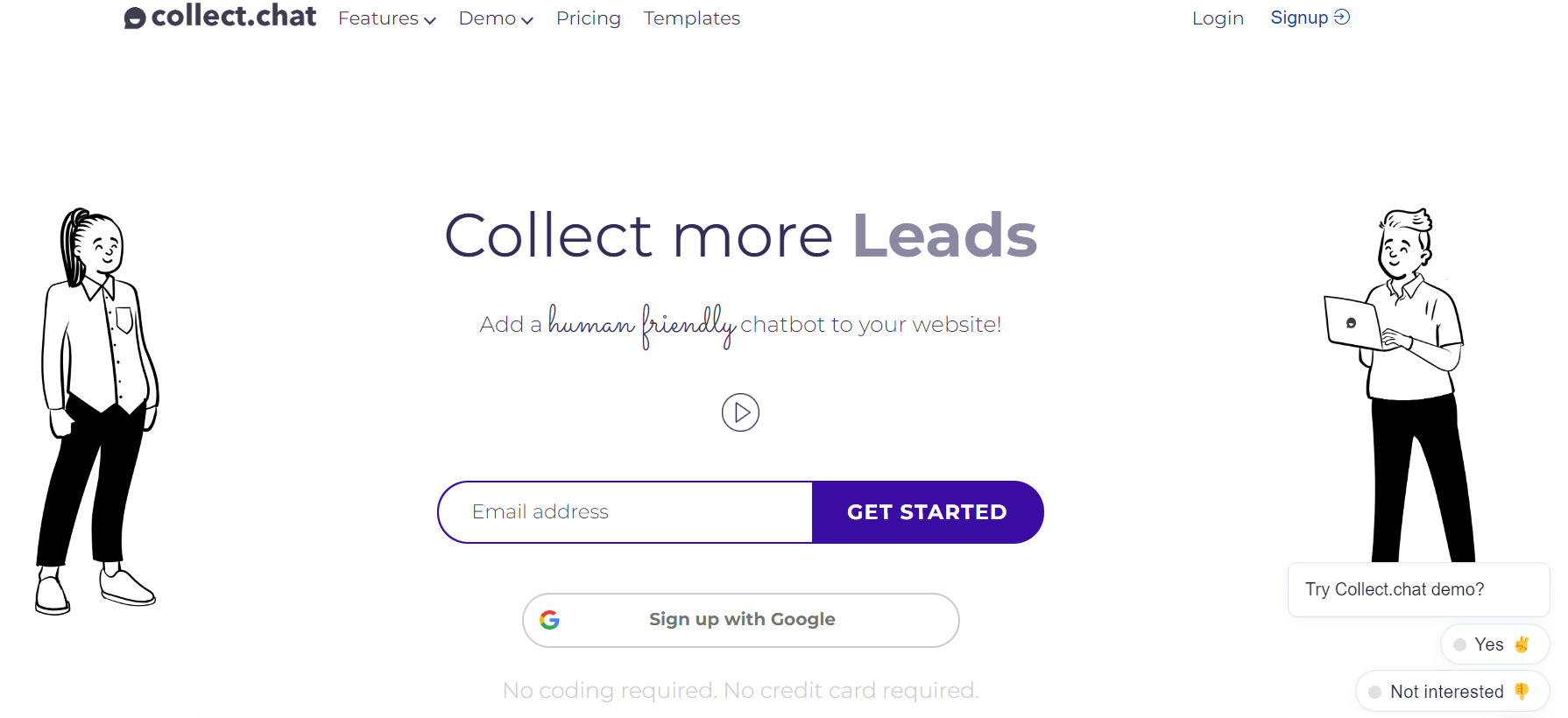 Customize your chatbot's appearance and conversation flow to match your branding and capture your visitors' attention, leading to more engagement and conversions.
Use Collect Chat's analytics to monitor and improve your chatbot's performance, identify opportunities to optimize your website, and boost your ROI.
---
BetterProposals enables you to create professional and visually impressive proposals quickly and easily, making a great first impression on potential clients.
Customize your proposals with various templates, images, videos, pricing tables, and more, making your proposal unique and tailored to the client's needs.
Track your proposals' performance in real-time, receive notifications when clients open them, and see which sections they spend the most time on.
So you can follow up at the right time and close deals faster.
---
SEO
Do SEO, content marketing, competitor research, PPC and social media marketing from just one SEMRush platform. Gives you insights and tools to help you boost your website's visibility in search results.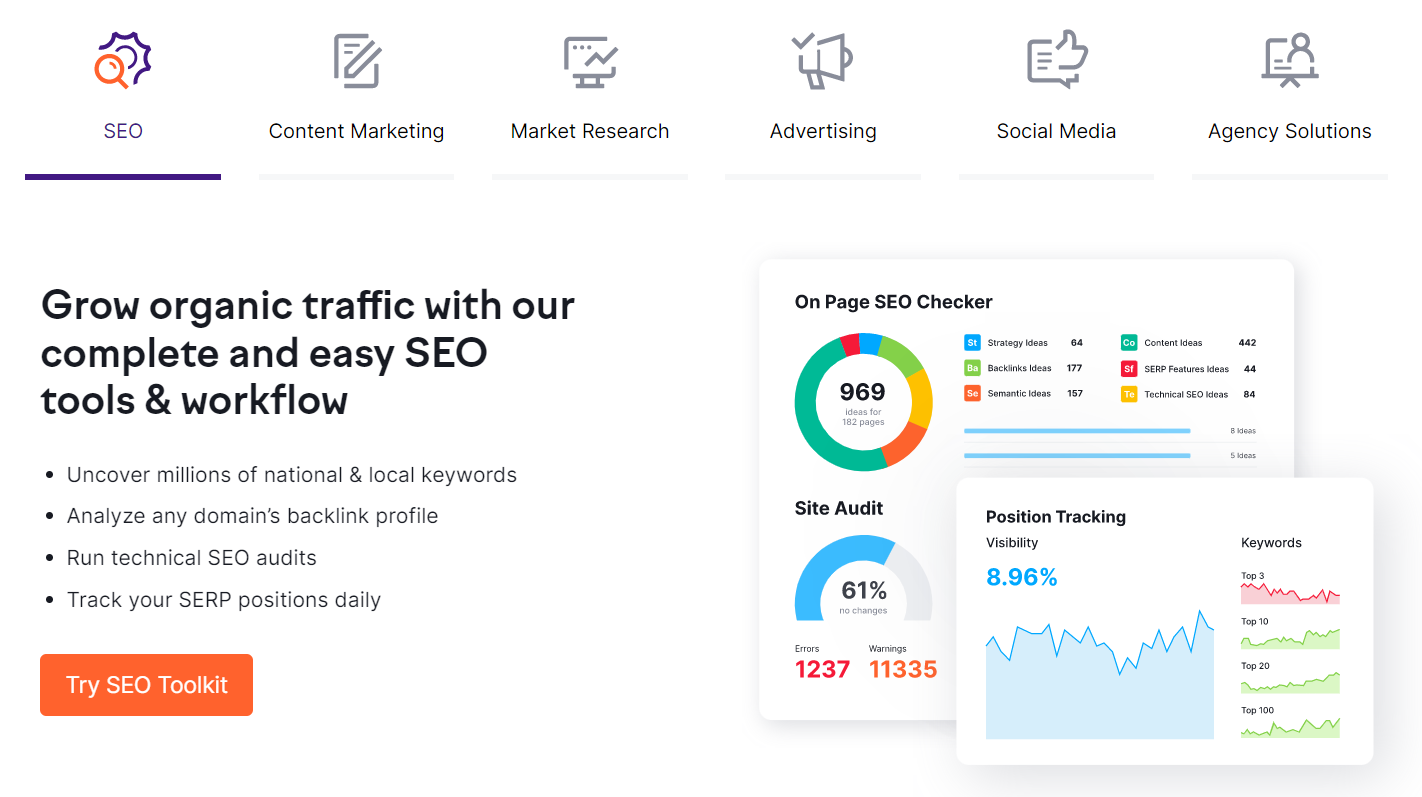 Track your website's rankings, monitor your competitors' strategies, and analyze your backlinks to optimize your SEO efforts.
Use the keyword research tool to find profitable keywords for your business, and get suggestions for content ideas to create high-performing content.
Get detailed reports on your website's traffic and user behavior, as well as insights into your competitors' marketing strategies, to help you make data-driven decisions.
---
Mangools' comprehensive SEO toolkit streamlines your keyword research process, making it easy to optimize your website and rank higher on search engines.
Get accurate search volume and keyword difficulty scores for any keyword, and find hidden long-tail keywords that your competitors may have missed.
Track your keyword rankings, analyze backlinks, and audit your website's on-page SEO to improve your overall search engine performance.
---
Site Analyzer is the 360° SEO analyzer for any website. Try it for free and analyze your SEO!
Get a comprehensive analysis of your website's performance, including factors like page speed, mobile responsiveness, and on-page SEO.
Discover your website's strengths and weaknesses with Site Analyzer's in-depth audit reports, and receive actionable recommendations for improvement.
Track your keyword rankings, monitor your competitors, and stay on top of your website's performance with Site Analyzer's user-friendly dashboard and reporting tools.
---
Serpstat is an all-in-one SEO tool that helps you boost your website's search engine rankings, drive traffic, and improve your online visibility.
Discover and analyze your competitors' keywords, backlinks, and PPC strategies, and use this information to optimize your own SEO and marketing campaigns.
Track your website's search engine rankings, monitor your backlinks, and receive notifications on changes to your website's health and performance.
---
Outranking helps content teams achieve predictable content success with AI assistance. Build a content strategy, execute content optimize SEO and measure your results.
Outranking helps content teams achieve predictable content success with AI assistance. Build a content strategy, execute content optimize SEO and measure your results.
Workflow is designed to adopt AI as part of your content management and creation process, no matter if you work solo or in a team. Write better content 10x faster.
Save 100s of hours on keyword research designed to bring traffic that converts. Build a content plan on automation using advanced keyword clustering and search engine ranking analysis in minutes.
---
Surfer SEO allows you to create perfectly optimized content that ranks higher in search engine results pages.
Analyze your competitors' pages and get precise recommendations for improving your own content to surpass them.
Get a full picture of your website's health and track the progress of your optimization efforts with Surfer SEO's audit and tracking features.
Create content that's not only optimized for search engines but also perfectly tailored to your target audience's needs, with Surfer SEO's AI-powered content editor.
---
WebCEO is a comprehensive SEO platform that allows you to manage all your SEO tasks in one place, increasing your website's visibility and driving more traffic.
Perform thorough website audits, including on-page optimization analysis, keyword research, and backlink analysis, to ensure your website is optimized for search engines.
Track your keyword rankings and monitor your competitors' SEO strategies to stay ahead of the game and improve your website's search engine visibility.
Generate comprehensive SEO reports, including progress tracking, custom branding, and white-labeling, to impress your clients with your SEO efforts and showcase your results.
---
SE Ranking is an all-in-one SEO tool that provides you with everything you need to optimize your website for search engines.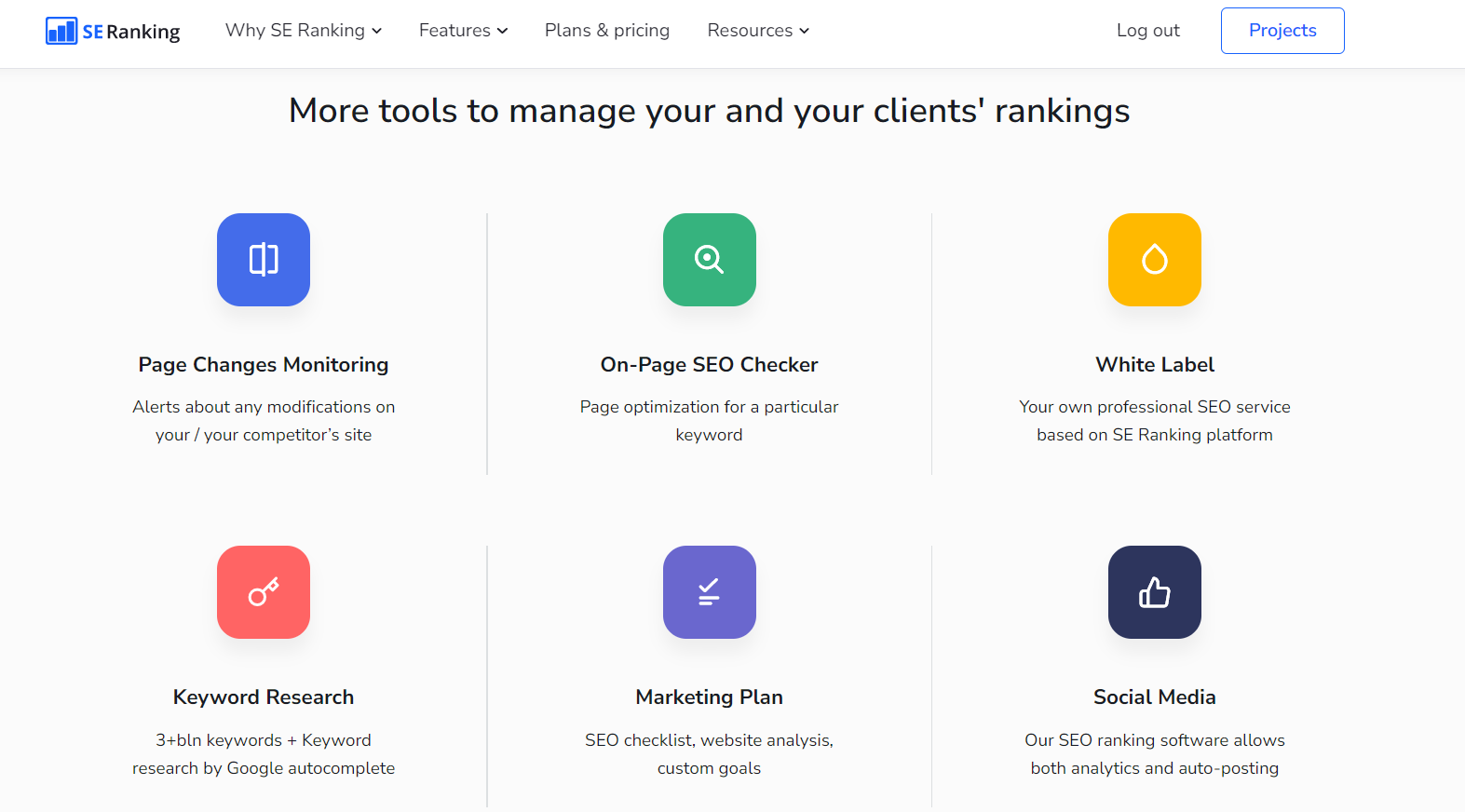 Track your website's search engine rankings, analyze your competitors, and find the best keywords for your website using SE Ranking's comprehensive keyword research tool.
Stay on top of your website's performance with detailed analytics reports and receive alerts on important changes in your rankings or website's health.
Easily monitor and manage your website's backlinks with SE Ranking's backlink management tools, ensuring that your website stays ahead of the competition.
---
Public Relations (PR) and Affiliate Partnerships
Post Affiliate Pro helps you manage your affiliate programs by providing advanced tracking and analytics to measure the performance of your affiliates.
Easily create custom commission structures and set up different rules for each affiliate to optimize their performance.
Integrate with your favorite payment gateway, email marketing software, and CRM to streamline your affiliate program and increase your revenue.
---
Rewardful allows you to easily set up and manage your own affiliate program, giving you the power to increase your sales and revenue.
Track and manage your affiliates' performance with real-time analytics, giving you insights into the success of your program and the ability to optimize your rewards.
Easily customize your program with your own branding and commission structures, and automate payouts to your affiliates with seamless integrations to popular payment providers.
Rewardful is a simple way for SaaS companies to setup affiliate and referral programs with Stripe & Paddle. Just connect your account and let us track referrals, discounts and commissions for you!
---
Find relevant media contacts, create and send press releases, track mentions, build reports, and more. Prowly has everything to get your PR work done.
Prowly streamlines your PR and media relations activities, making it easier for you to manage media contacts, create engaging press releases, and track the performance of your PR campaigns.
Create visually appealing press releases with multimedia elements, such as images and videos, to make your stories stand out and grab the attention of journalists and media outlets.
Use Prowly's media database to find relevant journalists and media outlets for your industry and location, and manage your interactions with them using the platform's CRM capabilities.
Track the impact of your PR campaigns with Prowly's analytics tools, which provide insights on the reach and engagement of your press releases, and help you optimize your future PR efforts.
---
Podcast
Buzzsprout is an all-in-one podcasting platform that makes hosting, promoting, and tracking your podcast a breeze, with a user-friendly interface and a range of helpful features.
Easily upload and distribute your episodes to all major podcast platforms, track your stats, and promote your podcast with customizable websites and social media integration.
Collaborate with co-hosts or guests, and get detailed analytics on your listenership and engagement, all within one intuitive platform.
---
PodBean is a comprehensive podcasting platform that allows you to create, host, and monetize your podcast, with features like in-app subscriptions and sponsorships.
Easily upload and distribute your episodes to all major podcast platforms, customize your podcast website and player, and get detailed analytics on your listenership and engagement.
Monetize your podcast with built-in sponsorship and advertising tools, as well as in-app subscriptions, and connect with your listeners through built-in social media and messaging features.
---
Transistor is a professional-grade podcasting platform designed for businesses and teams, with advanced features like multi-show support and custom analytics.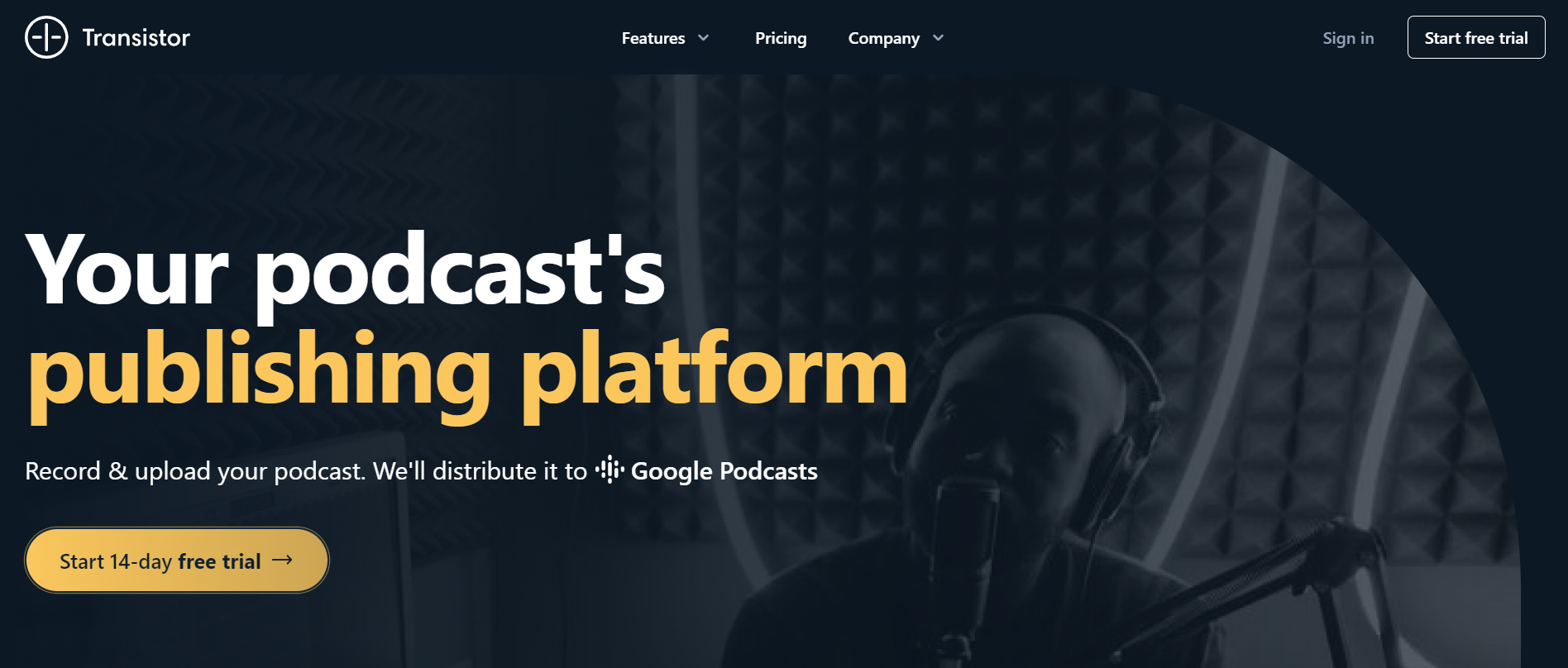 Easily upload and distribute your episodes to all major podcast platforms, collaborate with co-hosts or guests, and get detailed analytics on your listenership and engagement.
Scale your podcasting efforts with support for multiple shows and team members, and customize your analytics with advanced tracking options and integrations with tools like Google Analytics.
---
Descript is a unique podcasting tool that combines editing and transcription in one platform, making it easy to create polished and accessible episodes.
Easily edit your audio and video files with a range of intuitive tools, and transcribe your episodes in minutes with Descript's advanced AI transcription technology.
Collaborate with co-hosts or guests, and use Descript's built-in collaboration tools to streamline your workflow and save time on editing and production.
---
Social Media Marketing
Easily create viral giveaways & contests, landing pages and engaging forms such as surveys and quizzes. Woorise helps small business connect with an audience, collect leads and close sales.
Boost your social media and website engagement by creating powerful contests and giveaways with customizable templates, viral referral features, and multiple entry methods.
Easily track and manage your leads, submissions, and winners with Woorise's intuitive dashboard, email notifications, and third-party integrations.
Maximize your ROI and growth with Woorise's advanced analytics, conversion tracking, and A/B testing features.
---
SocialOomph's social media management tool allows you to easily schedule and automate your social media posts across multiple platforms with advanced features for Twitter.
Save time and boost engagement by scheduling your posts in advance and targeting your audience with hashtags, keywords, and geo-targeting.
Automatically recycle your evergreen content and keep your profiles active with SocialOomph's queue reservoir, RSS feeds, and auto-follow features.
Track your social media performance, analyze your audience, and monitor your mentions and keywords with SocialOomph's comprehensive reporting and monitoring features.
---
Combin's Instagram and TikTok management allows you to automate your growth, engagement, and content creation on Instagram with advanced targeting and filtering features.
Grow your Instagram and TikTok following and reach by automatically following, unfollowing, and liking users that match your target audience with Combin's advanced targeting and filtering features.
Save time and streamline your content creation by automatically scheduling and posting your photos and videos with Combin's content planner and editor features.
Track your performance, analyze your audience, and monitor your competitors and influencers with Combin's comprehensive analytics and reporting features.
---
Crowdfire is a social media management tool that helps you grow your audience, engagement, and sales on social media with smart and automated features.
Save time and boost your engagement by scheduling and automating your social media posts with Crowdfire's content calendar, RSS feeds, and queue reservoir features.
Grow your social media following and reach by targeting your audience with Crowdfire's smart and automated features for following, unfollowing, and engaging with users.
Track your social media performance, analyze your audience, and monitor your keywords and mentions with Crowdfire's comprehensive analytics and reporting features.
---
Craft engaging posts with AI, schedule effortlessly and watch your followers grow.
Imagine you had 1000 writers working for you, creating awesome tweets day and night. That's Postwise.
Simply write your topic, edit your tweet & hit schedule. Postwise will handle the rest.
Tools optimized for sales - plug links, retweet winning content, auto send DMs and more!
---
Content Studio is a content marketing and social media management tool that helps you discover, plan, and publish engaging content that resonates with your audience.
Find trending topics and keywords, and curate relevant content from a variety of sources, including news sites, social media, and RSS feeds.
Create and share your own custom content, and use the AI-powered automation tools to schedule and publish your posts on social media.
Monitor your social media performance with the built-in analytics dashboard, and adjust your strategy based on your results.
---
SocialBee is a comprehensive social media management and automation tool that helps you grow your social media presence and engage with your audience.
Create and schedule posts in advance, and use the powerful automation features to automatically share your content across multiple social media channels.
Build and grow your following with targeted social media campaigns, and use the built-in analytics dashboard to track your performance and optimize your strategy.
Collaborate with your team and clients, and easily manage multiple social media accounts from a single dashboard.
---
Social Pilot is a social media management and scheduling tool that helps you streamline your social media strategy and save time.
Schedule posts in advance across multiple social media channels, and use the content calendar to easily plan and organize your publishing schedule.
Collaborate with your team and clients, and track your performance with the built-in analytics dashboard.
Use the automation features to share your content across social media channels, and grow your following with targeted campaigns and engagement tools.
---
VidIQ is a YouTube video optimization tool that helps you grow your YouTube channel and reach a wider audience.
Optimize your video content with keyword research and optimization tools, and use the built-in analytics dashboard to track your performance.
Find and engage with your audience, and use the video SEO tools to rank higher in YouTube search results.
Collaborate with your team and clients, and use the custom thumbnail creator to make your videos stand out.
---
Envato Placeit offers a user-friendly platform for creating professional marketing materials, making it easy for businesses of all sizes to create visually appealing content.
Easily design high-quality mockups, logos, videos, and other marketing materials with Placeit's extensive library of customizable templates.
Quickly preview your designs with real-world scenarios and ensure that your marketing materials look polished and professional before publishing.
Save time and money by creating your own marketing materials, rather than outsourcing to expensive agencies or designers.
---
Visme is a visual content creation tool that helps you create engaging visual content, such as infographics, presentations, and social media graphics.
Choose from a variety of customizable templates, or create your own designs from scratch.
Collaborate with your team and clients, and easily share your designs on social media or embed them on your website.
Use the built-in analytics dashboard to track your performance and optimize your visual content strategy.
---
Iconosquare is an Instagram and Facebook analytics tool that helps you track your social media performance and optimize your strategy.
Use the analytics dashboard to track your follower growth, engagement rate, and content performance, and make data-driven decisions to improve your strategy.
Schedule and publish posts in advance, and use the automation features to save time and streamline your social media workflow.
Collaborate with your team and clients, and use the hashtag tracker to find relevant hashtags and increase your reach.
---
Looking to grow your audience on LinkedIn, fast? Aware helps creators, social sellers, and anyone growing their audience on LinkedIn 5x their engagement in minutes a day.
With curated, dynamic, and custom feeds, you can engage with exactly who you should be engaging with, all in one place. No more noisy LinkedIn feed with posts you don't care about.
See who's engaging with you the most, and who your top leads are. Profile, content, and engagement analytics (for individuals and teams). Sync all your activity (and your team's) to Salesforce.
While there are other LinkedIn analytics tools, Aware is in a league of its own with the custom engagement feeds and CRM sync.
Starting a $9 for the Creator plan, it's a no-brainer if you're active on LinkedIn.
---
Talent and Project
Watch your employees every minute of the day with Insightful employee monitoring software, creating a more productive workplace.
Insightful is a time tracking software that keeps all your critical operations in check, on time and on budget. So you can stay focused on growing your business.
Manual project time tracking can be a real bottleneck. Insightful makes it automatic, efficient and effortless - without a mistake in sight.
---
GanttPro is a project management tool that allows you to create and visualize Gantt charts to plan and manage your projects more efficiently.
Assign tasks, set deadlines, and track progress in real-time to ensure your project stays on schedule.
Collaborate with your team in real-time, assign resources, and share project timelines with stakeholders to keep everyone on the same page.
Use GanttPro's project templates and integrations with popular tools like Trello and Asana to streamline your workflow and save time.
---
Kinsta offers premium managed WordPress hosting with lightning-fast speed, enhanced security, and easy-to-use site management tools.
Enjoy automatic backups and updates, expert support, and a powerful dashboard that allows you to manage your sites and monitor performance in real-time.
Choose from a range of hosting plans to suit your needs, with scalable resources and advanced features such as SSH access, staging environments, and custom caching options.
Experience superior website performance with Kinsta's Google Cloud Platform infrastructure, which is optimized for WordPress and provides global coverage with 27 data centers around the world.
---
Branding, Competition and Analytics
Coda is a collaborative tool that allows teams to work on documents, spreadsheets, and databases in one place, with real-time updates and commenting.
Build custom workflows and automation using pre-built templates or build your own to streamline your team's processes and increase efficiency.
Integrate Coda with other tools like Slack, G Suite, and Zapier to bring all your work into one central location and simplify your workflow.
Use Coda's smart tables to track data and automate actions, like sending emails or creating tasks, based on specific criteria.
---
Coolers is a color palette generator that helps designers and marketers create stunning color schemes quickly and easily.
Generate color schemes based on a single color, an image, or even a website URL to ensure your design aligns with your brand.
Save your favorite color palettes, export them in various formats, and share them with your team for seamless collaboration.
Use the gradient tool to create beautiful and unique color gradients that will make your designs stand out.
---
SimilarWeb - Website Analytics and Insights
SimilarWeb provides comprehensive website analytics and insights, allowing you to monitor your website's traffic, performance, and audience.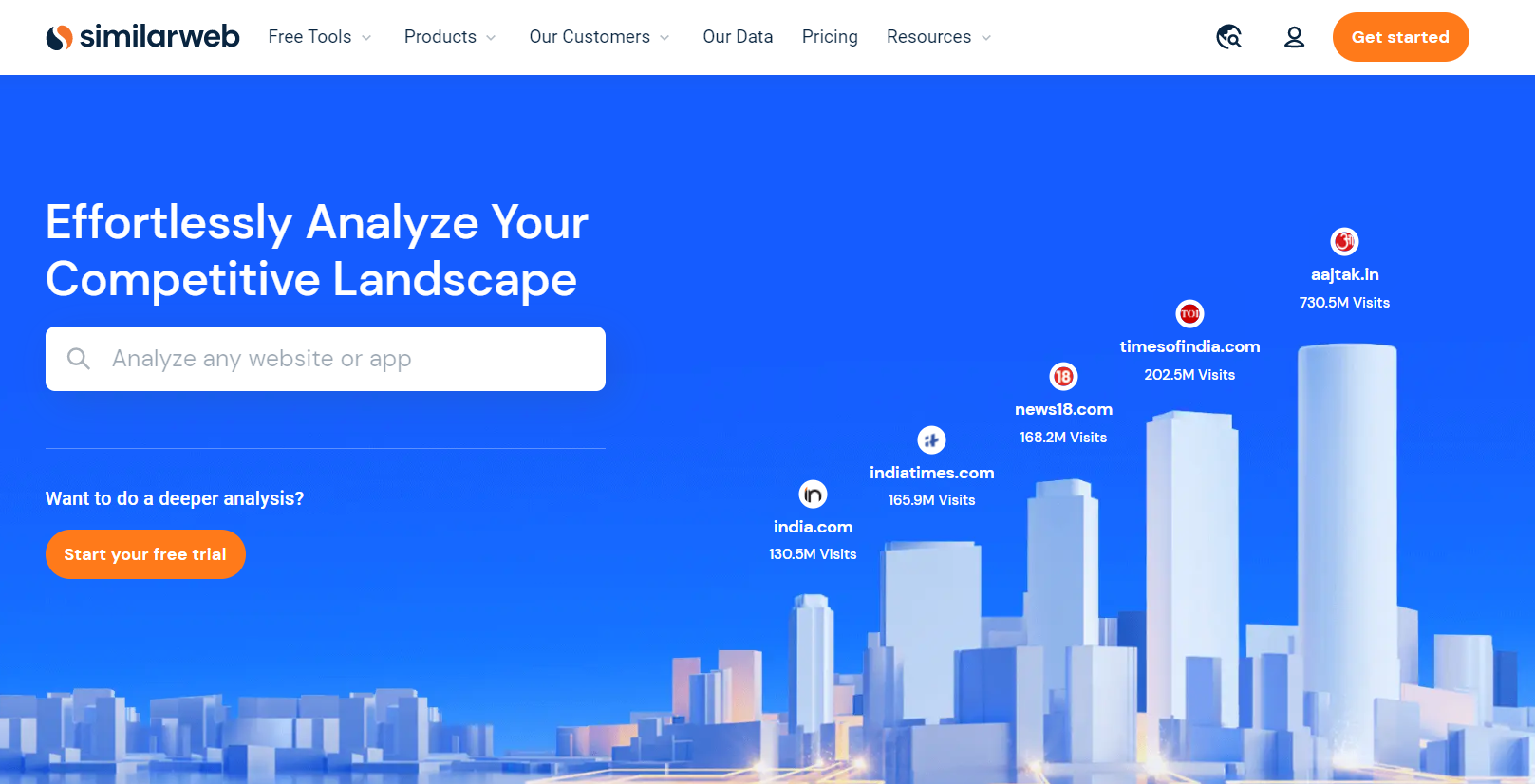 Get insights into your competitors' website traffic, keyword rankings, and social media engagement to help you stay ahead of the competition.
Identify new growth opportunities and make data-driven decisions with SimilarWeb's actionable insights and recommendations.
Track your website's performance over time and get alerts when changes occur, so you can quickly respond and adjust your strategy.
---
Lucid is a market research platform that connects businesses with a global network of survey respondents, providing fast, accurate, and reliable data.
Choose from a variety of survey types, including brand awareness, customer satisfaction, and product feedback, and get real-time results.
Target your audience based on demographics, behaviors, and preferences, and get insights into their attitudes, behaviors, and motivations.
Integrate Lucid with other tools like Qualtrics, SPSS, and SurveyMonkey to streamline your research and data analysis workflows.
---
That's it for 2023! Add any of the above to your tool stack and see how your business grows!
Did we miss any tool that you think is rare and equally valuable?
Let us know and we will add it here.
Written by
Ricky
Ricky is the founder of SaaSwrites. A SaaS founder himself, Ricky found it difficult to grow and market his product after building it. While networking on Twitter with founders, he realized there was a big gap in a platform that can truly help SaaS founders and makers with Marketing. He started SaaSwrites to bring the best marketing and growth resources. Ricky is an expert in SaaS Marketing offering SaaS channel strategy consulting services to SaaS companies. He also writes about SaaS marketing tools that help people with marketing. Ricky is also the founder of a B2B SaaS product - Beejek (a digital receipt platform for retail stores) Say Hi to Ricky @rickywrites on Twitter.